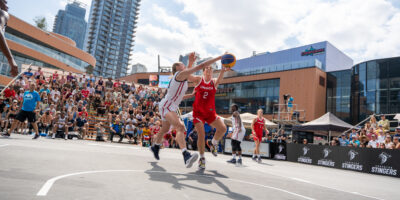 FIBA 3x3 World Tour Masters & Women's Series
They're playing basketball!
July 28 – July 30, 2023
Time
Whoomp, there it is! Basketball's greatest 3x3 athletes return to downtown Edmonton this summer for the 2023 FIBA 3x3 World Tour Masters and FIBA 3x3 Women's Series in ICE District's Fan Park outside of Rogers Place.

After staging tremendously successful 3x3 Challenger events in 2018, 2019, and 2022, Edmonton has been named the exclusive Canadian host of the FIBA World 3x3 Tour, the flagship competition of the FIBA 3x3 professional season, for the next three years. Twelve of the best men's teams from around the globe will compete for valuable Olympic qualifying points for their nations. Hometown heroes Katherine Plouffe and Michelle Plouffe will lead No. 1-ranked Canada into action at the FIBA 3x3 Women's Series, which features top women's national teams also vying for Paris 2024 Olympic berths.

The prestigious 3x3 event will take place at the same time as Taste of Edmonton, so be sure to fuel up and choose from an array of over 50 Edmonton-owned restaurants before heading over to catch the games!