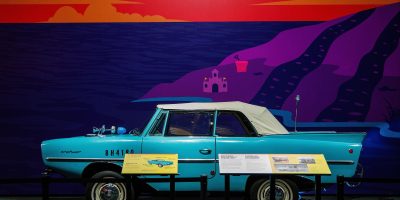 DRIVE: Reimagining the Ride
Discover a high-octane exhibit at the Royal Alberta Museum!
March 9, 2022 - April 30, 2023
Time

Street Address

Royal Alberta Museum - 9810 103A Ave NW, Edmonton, Alberta
Vehicles help us work, play, and move. Some of them help us dream, and some might be made of dreams. Let your imagination run wild in DRIVE: Reimagining the Ride at the Royal Alberta Museum!

See creative adaptations of vehicles of years past, from the solar-powered Nanook, to an amphicar that slides from land to sea and back again, to the stylish Bricklin SV-1 sportscar that inspired the famous DeLorean. Learn what a hearse, a tractor, and a sports car have in common.

Twelve vehicles spanning from the 1890s to the 1990s, on loan from the Reynolds-Alberta Museum and Remington Carriage Museum, tell varied stories of imagination and creativity in addressing our basic need to get ourselves—and our things—from place to place.

Enter another world and explore the similarities and differences between vehicles of different eras, context, purpose, and approach, and gain appreciation for the imaginative minds of inventors and designers.