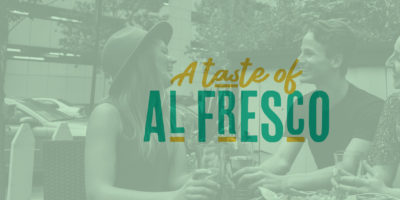 Downtown Spark: A Taste of Al Fresco
Explore the 104th Street Promenade!
March 27 – March 28, 2021
Time

Street Address

104th Street, from Jasper Avenue to 104th Avenue, Edmonton, Alberta
A Taste of Al Fresco is the perfect way to spend a weekend outdoors and wander iconic 104th Street! For two days you can explore extended restaurant patios with delicious $15-$25 food & drink deals, wander through Michael Phair Park and take in visual and performance window activations, admire ice sculptures and much more.

This event is part of Downtown Spark! Be on the lookout as Downtown Edmonton defrosts to reveal immersive cultural exhibits, extended outdoor patios, al fresco performances, giant art installations and so much more.