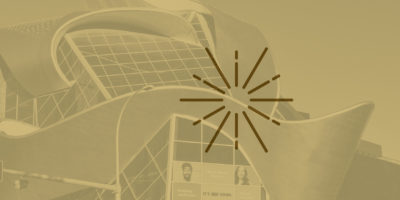 Downtown Spark: Arts District Animation
Don't miss this multi-disciplinary digital experience!
April 8 – May 31, 2021
Time

Street Address

Art Gallery of Alberta, Citadel Theatre, Winspear Centre, Edmonton, Alberta
Edmonton's iconic Arts District is lighting up! Illuminate your curiosity and ignite your imagination as The Art Gallery of Alberta, Citadel Theatre, and Winspear Centre host three distinct multi-disciplinary digital experiences. This family-friendly event will feature local artists in video micro-exhibits that will be displayed on LED screens with accompanying sound. Experience the magic of the city's core with this physically distant experience!

The Winspear Centre (begins April 8)
The Winspear Window Watching Experience is a free, unique video display that connects you with the Edmonton Symphony Orchestra. This special exhibit features six digital screens showcasing multiple performance videos by the ESO in the Winspear windows. Complete with stunning audio, visitors can share a moment of musical serenity and joy with their ESO while safely distancing outside the Winspear Centre. Window video content includes a thrilling performance by the entire ESO of John Estacio's King Arthur and Merlin; a collaboration between Laura Veeze, ESO Violin, and contemporary hip hop dancer, Josh Capulong, as they explore H.I.F. Biber's Passacaglia in G Minor; and a beautiful spring recording of Victor Pipkin, ESO Cello, as he serenades the animals on his farm. Share a moment with your ESO through this free, immersive cultural exhibit while experiencing all downtown has to offer!

The Citadel Theatre (begins April 10)
The Citadel Theatre's installation, Window to New Works, features scenes and songs from projects in development at the Citadel and from other exciting plays being developed around Edmonton! Carefully adapted for viewing outdoors in downtown Edmonton, these vignettes are selected from new works by Romeo Candido & Carmen De Jesus, Charlotte Corbeil-Coleman & Hawksley Workman, Ken Williams, Holly Lewis, Belinda Cornish, Erin Shields, Chris Dodd, Carly Neis & Cynthia Jimenez-Hicks & Cameron Kneteman, Mieko Ouchi and Tai Amy Grauman. Take a peek and stay awhile to experience theatre like you've never seen it before.


The Art Gallery of Alberta (begins April 23)
The Art Gallery of Alberta's Sidewalk Cinema is a series of outdoor exhibitions, installations, and al fresco performances and art experiences. Over the course of the year, AGA Sidewalk Cinema exhibitions will change to feature a wide variety of digital works, created by artists, arts partnerships and community collaborations. The first AGA Sidewalk Cinema exhibition features a selection of digital video and film works created by Alberta Artists.

This event is part of Downtown Spark! Be on the lookout as Downtown Edmonton defrosts to reveal immersive cultural exhibits, extended outdoor patios, al fresco performances, giant art installations and so much more.