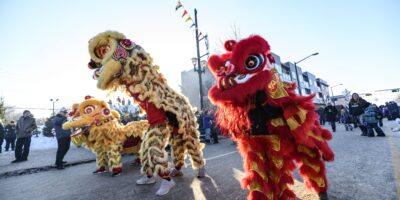 Deep Freeze: A Byzantine Winter Festival
Celebrate diverse cultures and revel in the magic and beauty of winter!
January 20 – January 21, 2024
Time

Street Address

Alberta Avenue - 118 Avenue NW & 90-95 Street, Edmonton, Alberta
Deep Freeze: A Byzantine Winter Festival celebrates all things winter and culture in our great city!
Winter panache, food, art, culture, and winter fun—including races in actual deep freezers! Take an amazing walk, stroll or gallop down Alberta Avenue district and be enchanted by magnificent ice sculptures, song, dance, and tasty delights that share the stories and cultures of Canada's Ukrainian, French-Canadian and Indigenous communities. Unique this year is an expanded interactive heritage winter village that transports visitors back in time to learn the traditions and heritage of craftwork. Forge your way to Deep Freeze Festival!