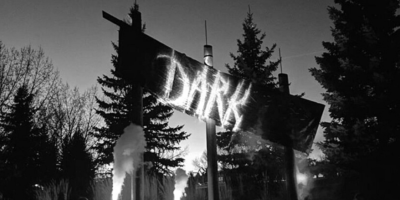 DARK at Fort Edmonton Park
Prepare to be haunted to your core.
October 1 – October 31, 2020
Time

Street Address

Online & at Fort Edmonton Park - 7000 143 St NW, Edmonton, Alberta
Lock your doors because this year, DARK is making its way into your home. Prepare yourself for experiences that will get your heart racing and give you chills you will never forget.
Feeling brave enough to leave the safety of your own four walls? Explore paranormal phenomena in the deepest, darkest corners of Fort Edmonton Park. While they can't protect you from the ghosts and ghouls that await, the park will be following all AHS Health and Safety COVID-19 protocols.
Take a look at what DARK has in store for you this year. Grab your friends, because you never know what might happen when the lights go out. This year there are 6 different events ranging from free quiz nights (horror themed of course) to searching for the paranormal in darkest corners of the Fort.
Mixology
Awaken your spirits with a virtual DARK craft cocktail experience. Your ticket includes a Spirit Box - a sinfully delicious assortment of spirits and cocktail mixes to create a truly chilling night for you and your friends. Simply follow along as your wicked host shows you how to make three Halloween themed cocktails that are sure to please your dark side.
Paranormal Investigation
Two paranormal experiences, one unforgettable night. Learn about the science of paranormal investigations and the tools that are used to detect entities. Your guided paranormal investigation will take you to the darkest corners of the Park deep in the River Valley. Come with an open mind—you never know what the night will bring.

Virtual Escape Room
Gather your friends for this spine chilling virtual quest. Complete the murderous mission before the clock runs out to be marked a hero. Fail, and evil will creep the Fort—and your nightmares—forever.
Dark Quiz Night
Join our horror host on Instagram Live @fortedmontonpark every Monday in October at 7:00 pm for all things gruesome, creepy and blood curdling. Answer the questions correctly, and you could win a petrifying prize.
The 'Raveyard
Trick or treat, move your feet, time to groove to ghoulish beats. This October 31st, join F for a thrilling virtual Halloween bash. Dress up and unleash your devilish good dance moves from the safety of your own home.
Curio Shoppe
Brought to you by the creators of Dead Centre of Town, Curio Shoppe is an interactive online experience inspired by true history and experienced from the discomfort of your own home.