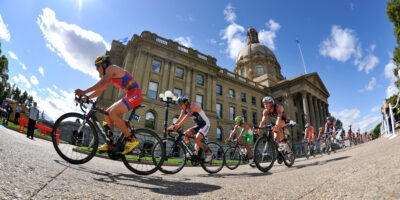 Canadian Road Cycling Championships
Let's Ride!
June 23 – June 27, 2022
Time

Street Address

10800 97 Ave, Edmonton, Alberta
The Canadian Road Cycling Championships are the most prestigious cycling events on the domestic racing calendar, with the winners of each event awarded the "National Champion" maple leaf jersey to wear in competition around the world in the year following the event.

Since riders must compete at Nationals to be considered for the National Team, this event sees participation from the highest level of cyclists in Canada and will also feature some of Canada's top professional riders, who have the opportunity to race on home soil. The Canadian Road Championships is comprised of three separate events: Time Trial, Road Race and Criterium for Junior, Elite, and Para athletes.

Grab your flags and head down to the grounds to cheer on the riders!

If you really want to get in on the action, sign up for the Urban Fondo Ride on Sunday, June 26! Choose from 28 km, 56 km and 80 km closed-off routes so you can experience riding through Edmonton like a pro! Explore Edmonton has teamed up with a number of incredible local businesses to put together a fantastic finisher package for everyone who completes the Urban Fondo – no matter the distance! Learn more about the prize packs and how to register for the Fondo HERE.