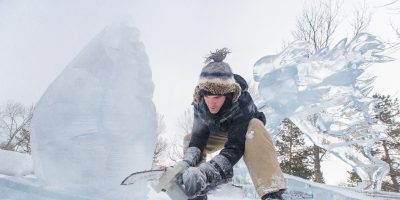 Boardwalk Ice on Whyte
Have an "ice" weekend or two.
Every year, the Boardwalk Ice on Whyte Festival grabs Canadian winter by the snowballs and carves it into a wicked combo of ice and art. Just imagine, 96,000 pounds of ice is dumped just to prep for this week long party – on purpose! So, get your toque on and come down to the International Ice Carving Competition, visit the ice bar, or learn to carve ice just like a pro. One of the hottest shows is on the last night, where you'll see fire melt an ice sculpture right back into H20. You'll be right in your element. Get it?
Festival Hours:
January 23 & 24 – 2:00pm – 9:30pm
January 25 & 26 – 10:00am – 9:30pm
January 27 – Closed
January 28, 29, 30 & 31 – 5:00pm – 9:30pm
February 1 & 2 – 10:00am – 9:30pm