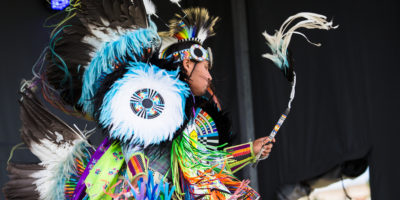 Discover Indigenous Edmonton
Edmonton is lucky to boast the second largest Indigenous population in Canada, full of talented performers, artisans, musicians and entrepreneurs. Immerse yourself in culture at Métis Crossing, take an Indigenous-led tour, or taste the inventive meals created by a trailblazing Indigenous chef. Experience Indigenous Edmonton and discover the authentic stories that shape Amiskwacîwâskahikan's past, present and future!
Using a variety of both traditional and Western ingredients, Pei Pei Chei Ow hosts specialty dinners, caters public & private events, and offers immersive culinary experiences. Check out their virtual cooking classes or order their no-contact food deliveries and savour a delicious made-from-scratch meal at home. Chef and owner, Scott Iserhoff, uses ingredients from the land (and sometimes right from the North Saskatchewan River Valley)!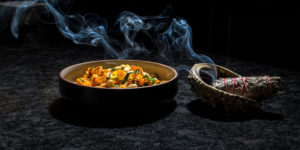 Experience the geology of Edmonton like never before. Talking Rock Tours provides interactive experiences that pull back the curtain on the story of the land. Embark on a tour of Edmonton's stunning river valley, the local oil & gas industry, or Elk Island National Park with a Métis guide and geologist who combines his culture and knowledge of geology.  You'll experience the wonders of Alberta and leave with a better understanding of the city's natural history.
Primarily operating out of Edmonton's Indigenous Art Park and the Grow Centre, ReSkilled Life offers a variety of hands on experiences from traditional hide tanning, Metis beading, moccasin and mukluk making and even cheese making. As an Indigenous woman, Natalie of ReSkilled Life seeks to bring her traditions, stories, and culture to life in the centre. In her Metis culture, being a bridge between two worlds is a longstanding value. With this as a firm guiding light, ReSkilled Life offers both domestic homesteading and crafting focused workshops.
Take a day-trip to Métis Crossing and discover how the Métis lived as trappers, learn about historical families and their homes, understand how plants are used as medicine and much more. Métis Crossing is the first major Métis cultural interpretive centre in Alberta, sitting on 512 acres of land designed to engage visitors in immersive experiences. This incredible facility mirrors the core values of the Métis community including self-sufficiency, respect of elders, participation of youth, and cultural pride. Book your VIP experience in advance here!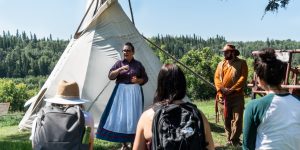 The Indigenous Artisans Market Collective (I.A.M. Collective) is a community of 42 local Indigenous creatives, with members from varying nations across Turtle Island. Stop by the Downtown Farmers' Market or the Alberta Avenue Outdoor Public Market and check out their dynamic offerings. From featured performers to local artisans and fine artists, the I.A.M. Collective's work will spark your imagination and creativity at first encounter.
River Cree Resort and Casino
Set on 49 acres of picturesque property in Enoch Cree Nation, four-star luxury awaits you at the River Cree Resort and Casino. Experience the rush of the vibrant and exciting casino floor - here you'll find 1,350 slot machines and a wide range of exciting dining options including the Onyx Lounge, Italia, Tap 25 Sports Bar and much more. You'll be livin' the high life when you play, stay and dine at The River Cree!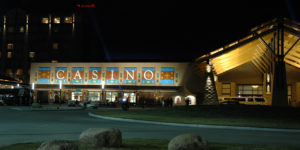 In Partnership with Indigenous Tourism Alberta
Indigenous Tourism Alberta (ITA) is a non-profit organization devoted to help grow and promote authentic, sustainable and culturally rich Indigenous tourism experiences we want to share with the world.