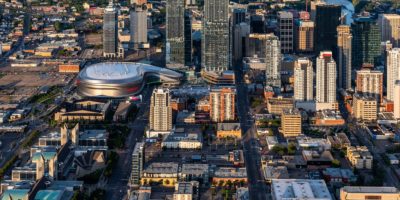 Explore Edmonton ("EEC", "we", "us" or "our") respects your privacy and, in addition to this Cookie Policy, we encourage you to read our Privacy Policy.
Use of Cookies
Explore Edmonton uses cookies and other online tracking devices, such as web beacons, on this website. A cookie is a small text file that is placed onto your computer or other electronic device and enables the website to recognize repeat users, facilitate the user's ongoing access to and use of the website, and allows the website to track usage behaviour and compile aggregate data to facilitate content optimization.
The information we obtain from using cookies will not typically contain your personal data. Although we may obtain information about your computer or other electronic device, such as your IP address, your browser and/or other internet log information, we store this data in aggregate form. Data stored in aggregate form does not identify you personally. In certain circumstances, we may collect personal information about you, but such information is only stored in identifiable form when you have provided the information voluntarily (e.g. if you contact us directly, sign up for our newsletter or enter into one of our contests).
Consent
By clicking "Agree and Continue" on the cookie statement on our homepage, you are agreeing to our use of cookies for the purposes described in this Cookie Policy. You may withdraw consent at any time by following the steps under "How to Turn off Cookies" below.
Description of Cookies
The following table provides additional information about which cookies we use and for what purposes:
| Provider | Cookie | Legal Basis and Purpose for Processing | Cookie Expiry |
| --- | --- | --- | --- |
| Google | Google AnalyticsThe ga.js JavaScript library sets the following first-party cookies: _ga, _gid, _gat, AMP_TOKEN, _gac, _utma, _utmt, _utmb, _utmc, utmz, _utmv. | Legal Basis: Legitimate interests Purpose: Google Analytics provides Explore Edmonton with information about the user interactions on the website to help Explore Edmonton: 1. Keep the website updated and relevant; 2. Develop Explore Edmonton's business; 3. Inform Explore Edmonton's marketing and campaigning strategies; 4. Improve the user experience. Specific actions that are being tracked via GTM: • Pageviews • Social Outbound Clicks • Form submissions for Join Our Site, Newsletter, Economic Impact Calculator • Outbound clicks for Utrip planning tool • Outbound clicks to external sites • Book Now buttons Reference Google's Cookie Usage policy for the full scope. https://developers.google.com/analytics/devguides/collection/analyticsjs/cookie-usage | By default _ga cookie expires after 2 years from the date it was last refreshed. (Sept. 22, 2022) |
| Google | Google Adwords Remarketing | Legal Basis: Consent Purpose: Google Adwords Remarketing is implemented on all pages to target users with relevant ads and to improve audience analysis. | The Google Adwords Remarketing pixel was created on October 22, 2020. By default any ga_cookie expires 2 years from the date it was last refreshed. |
| Facebook | Facebook Pixel | Legal Basis: Consent Purpose: Facebook Pixel is implemented on all pages to target users with relevant Facebook products. The cookie is used to gather information about your use of other websites and apps, whether or not you are registered or logged in. We also use this information for audience analysis. | The Facebook pixel was created on July 1, 2020. By default any Facebook Pixel tracking expires 2 years from the date it was last refreshed. |
| Siteimprove | Siteimprove Analytics Pixel | Legal Basis: Legitimate interests Purpose: Siteimprove provides Explore Edmonton with information about the performance of the website to help Explore Edmonton: 1. Keep the website updated and relevant; 2. Develop Explore Edmonton's business; 3. Inform Explore Edmonton's marketing and campaigning strategies; 4. Improve the user experience. 5. Monitor website performance. | By default the Siteimprove Analytics Pixel expires upon the termination of Siteimprove's services to Explore Edmonton. |
| Adara | Adara Analytics Pixel | Adara collects information about users of our website in order to provide interest-based advertising (on our Services and elsewhere, including across browsers and devices, also known as cross-device linking) and user analytic data. This may include anonymized information about you, such as travel destinations that you search for while accessing Adara pixeled websites. This information could be collected via cookie identifier, mobile device identifier, hashed CRM identifier, passenger number record or general location data. Adara may use the information they collect on our website to make predictions about your interests, demographic information or travel bookings for analytic purpose or in order to provide you ads (from us and other companies) across the internet (for example, travel products and services that are available at a destination you searched for online). You may opt out of Adara Tracking here: https://adara.com/opt-out/ | Data relevant to Explore Edmonton expires after 90 days. For online mobile identifiers that remain active indefinitely for the use of the device, Adara dissociates the data after the period of two years from the last encounter with the end user. |
| Act- On Marketing Automation Platform | Act-On Beacon Tracker | Act-On provides Explore Edmonton with technologies such as cookies, beacons, tags, and scripts, to analyze trends, administer the website, tracking users' movements around the website, and to gather demographic information about our user base as a whole. We may receive reports based on the use of these technologies by these companies on an individual and aggregated basis. Users can control the use of cookies at the individual browser level. If you reject cookies, you may still use our website, but your ability to use some features or areas of our website may be limited. You can learn more about our use of cookies and similar technologies in Act On's Cookie Policy located here: https://www.act-on.com/privacy-policy/ | By default Act-On Beacon Tracker cookies expire 1 year from the date they were last refreshed. |
| StackAdapt | StackAdapt Universal Pixel | Legal Basis: Consent Purpose: StackAdapt Universal Pixel is implemented on all pages to target users with relevant ads and to improve audience analysis. | Data relevant to Explore Edmonton expires after 180 days. |
How to Turn off Cookies
You may withdraw your consent to storage of cookies at any time by changing your cookie settings in your browser settings.
Please be aware that disabling cookies may affect the website's functionality.