Celebrating Entrepreneurship with Chef Table Living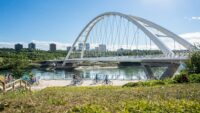 Edmonton is a city known for embracing new flavours and ideas; we're a city of trailblazers and innovators with a flair for adventure – that's why the food bike tours offered by Chef Table Living have made such a splash in our community!


Vanessa De Oliveira, Founder and President of Chef Table Living, discovered a way to combine the best of what Edmonton has to offer, showcasing our culinary scene, highlighting local businesses, and exploring the stunning river valley.


"We've got a beautiful, natural destination," explains De Oliveria. "It's just a matter of showcasing it properly."
Chef Table Living offers Food Tours Adventures, a fun way to explore Edmonton's restaurants, parks, festivals, and urban life while eating delicious food, being active, and hearing stories from local chefs and/or owners. Every Saturday and Sunday guests hop on their bikes (or e-bikes) and head out on an adventure, stopping at four local eateries. Guests have the option to bring their own bike or have one provided by Chef Table Living.


At each stop, guests get a behind-the-scenes experience, whether that's getting to decorate their own donut or getting to meet the chef. On top of that, the chef will also pick an item for all the guests to try.


"That was very important for us because it lets the chefs choose the dish that best represents them," said De Oliveria.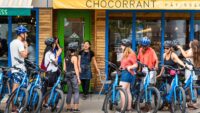 With 40 partners across the province, including local legends such as Sabor, Tres Carnales, and Chocorrant, De Oliveira loves making connections with business owners, chefs, and other entrepreneurs in Edmonton.


"I'm very proud of the people that we work with and the relationships we've built with our partners," said De Oliveira. "Not only do we have great working relationships with them, but they have become friends."


She strongly believes that it is our local entrepreneurs and business owners that make Edmonton the city we know and love.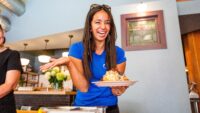 Speaking of entrepreneurs, De Oliveira is one herself.


"I have always been an entrepreneur at heart," said De Oliveira. She originally had planned to become a lawyer, but her heart wasn't in it. She craved the creativity and the challenge of starting and running a successful business.


"Being an entrepreneur is about finding your creativity and using that to make people happy," De Oliveira shares. "That's why I love being an entrepreneur because I get to do that."