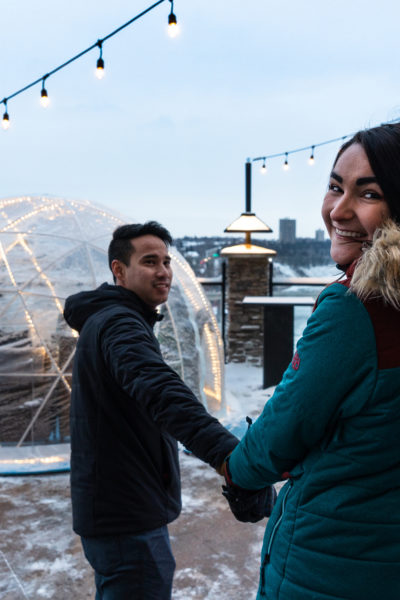 The Best Winter Patios in Edmonton
Is there anything more Canadian than hitting up a patio in the middle of winter? In Edmonton, we embrace the season with year-round patios that are perfect for chilling. But never fear! Many of these outdoor dining options are equipped with heaters, blankets, or even fire pits to keep you cozy. Some even have tents or domes that provide a little extra shelter from the elements. Clink glasses as the snowflakes fall all around you. There really is something magical about winter in Edmonton!

Note, some winter patios may be closed when temperatures dip. We recommend checking in with the individual businesses before heading out on particularly chilly days.

No matter how you explore this season, be sure to continue practicing physical distancing, frequent hand washing and following the guidelines put in place to keep everyone safe.

Conquer winter with a cold beer in hand! The patio at Odd Company Brewing in the Oliver Exchange Building is the perfect place to sip locally crafted brews as you take on the elements. Feeling a little chilly? Get yourself one of their fashionable new tuques to keep you warm. Small batch brews mean there's something new to try every time you visit, so stop in and knock back an inventive (and tasty) pint in the true spirit of the season!
12021 102 Avenue NW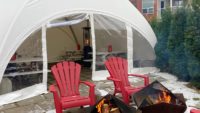 Just when you thought the patio at Little Brick couldn't get any better, they've upped their game with a hexadome tent which is pitched on most days, complete with socially distanced picnic tables. Did we mention it's heated? Beyond the cover of the tent, they have a couple of firepits and propane heaters to keep you warm around the yard. Stop in on a Sunday and pair a hot chocolate with their rotating weekend brunch feature and you've got the perfect start to a perfect winter day.
10004 90 Street NW
Riverside Bistro at Courtyard by Marriott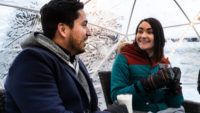 The intimate winter patio igloos at Riverside Bistro at the Courtyard by Marriott downtown overlook the city's majestic river valley, which means you'll be surrounded by picture-perfect landscapes as you eat your meal. Unlike a traditional igloo, these domes are heated and come equipped with cozy blankets to keep you warm. While there is a cost to reserve, a portion of that can go towards your meal. Cheers!
1 Thornton Court NW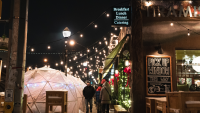 The heated patio igloos at Tiramisu Bistro are available for booking! These adorable domes on 124th Street are the perfect setting for a romantic date night or a special occasion. Tiramisu Bistro is an urban eatery where you can enjoy a modern take on traditional Italian fare. Fresh ingredients, wines from small vineyards, and freshly roasted coffee are all on the menu. Your private winter escape awaits!
10750 124 Street NW
Greenhouse at Victoria Golf Course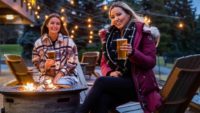 Open Thursday to Sunday (click here for opening hours), the winter patio at Greenhouse at Victoria is absolutely beautiful. Stop in after a day of exploring the cross-country ski track at the golf course and get yourself a glass of mulled wine. Firepits will keep you nice and toasty while you roast marshmallows with one of their s'more kits (complete with marshmallows made in-house!). Winter views don't get much better than this! Note, there are no reservations for the firepits - they are on a first-come, first-serve basis.
12130 River Valley Road NW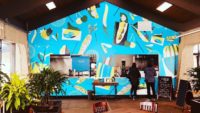 Located in the heart of Hawrelak Park, Culina on the Lake offers up tasty items to-go that pair perfectly with a day of outdoor adventure. Just head to the pavilion in the centre of the park! Enjoy a burger, gourmet hot dog, or some classic Ukrainian perogies. Once you're fuelled up, you'll be ready to skate, snowshoe, or to explore the many trails that wind through one of Edmonton's most beautiful parks on foot. The winter patio overlooks the frozen lake, making it a picturesque place to grab a bite.
9330 Groat Rd. Hawrelak Park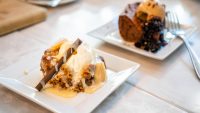 Do you speak French? No? Okay. Do you like French food though? Good, because that's all you need to enjoy Café Bicyclette. Situated in the French Quarter and specializing in French-country fare, Café Bicyclette is a pretty awesome place to visit - even in the winter. Plus, their new menu is absolutely to die for. We recommend trying the Jardin Bicyclette or the Boeuf aux Milles Saveurs.
8627 91 Rue Marie-Anne Gaboury (91 Street)
University of Alberta Botanic Gardens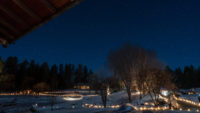 Dine under the stars at the Northern Light Dining Experience at the University of Alberta Botanic Gardens (now until March 13). The experience includes a three-course fondue served in a private transparent dining dome. Plus, you can explore the stunning gardens after your meal. The domes will book up fast, so reserve your spot now to avoid missing out!
51227 AB-60, Parkland County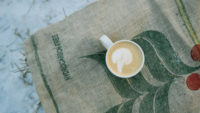 WinterCity Edmonton is keeping you nice and toasty with Winter Warming Kits available at select locations. For $10, you'll get a WinterCity blanket or scarf, a postcard by local artist Jason Blower, an I Heart YEG Winter button, and lip balm. Proceeds from your purchase will go to the Boyle Street Community Services Winter Warming Bus program - how great is that?
Winter patios are popping up all over the city! Looking for an outdoor dining option near you? Here are even more locations to check out that are Jack Frost approved!
Turn your backyard, deck or balcony into your own personal winter patio! Nestle in with a blanket, a pair of mittens, a warm cup of hot chocolate (or mulled wine... or heck, have a beer) and order food to-go from one of Edmonton's local restaurants. Pip, Meat, Tres Carnales, Dorinku, Bundok, Farrow, Bianco, Love Pizza and more offer pick-up (pro tip: check Skip the Dishes or Uber Eats for restaurants that don't have their own delivery service). A little snow never stopped you, you are a true winter warrior!