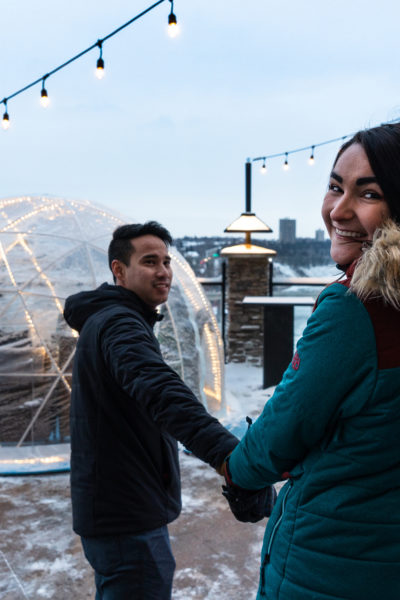 The Best Winter Patios in Edmonton
Nothing says "Canadian" quite like embracing the winter weather on a cozy patio! In Edmonton, our year-round patios are perfect for chilling. Many of these outdoor dining options are equipped with heaters, blankets, or even fire pits to keep you cozy. Some even have tents or domes that provide a little extra shelter from the elements. There really is something magical about winter in Edmonton! Note, be sure to check with the individual businesses for availability on particularly cold days.

Conquer winter with a cold beer in hand! The patio at Odd Company Brewing in the Oliver Exchange Building is the perfect place to sip locally crafted brews as you take on the elements. Feeling a little chilly? Get yourself one of their fashionable toques to keep you warm. Small batch brews mean there's something new to try every time you visit, so stop in and knock back an inventive (and tasty) pint in the true spirit of the season!
12021 102 Avenue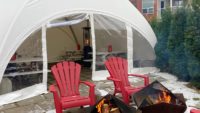 Just when you thought that Little Brick couldn't get any better, they welcome their winter-friendly patio! Did we mention it's heated? Enjoy firepits and propane heaters to keep you warm around the yard. Stop in on a Sunday and pair a hot chocolate with their rotating weekend brunch feature and you've got the perfect start to a beautiful winter day.
10004 90 Street
Check out the intimate winter patio at Fu's Repair Shop, nestled in the heart of Edmonton. Enjoy a unique blend of classic Dim Sum and Chinese fusion dishes, perfectly complemented by an imaginative cocktail menu. Grab seating by the fire or beneath a dome, all under the magically lit lanterns found in Fu's back patio!
9902 109 Street
Riverside Bistro at Courtyard by Marriott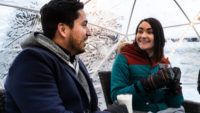 The patio igloos at Riverside Bistro at the Courtyard by Marriott downtown overlook the city's majestic river valley, which means you'll be surrounded by picture-perfect landscapes as you eat your meal. Unlike a traditional igloo, these domes are heated and come equipped with cozy blankets to keep you warm. While there is a cost to reserve, a portion of that goes towards your meal. Cheers!
1 Thornton Court
Do you speak French? No? Okay. Do you like French food? Good, because that's all you need to enjoy Café Bicyclette. Situated in the French Quarter and specializing in French-country fare, Café Bicyclette is a pretty awesome place to visit in the winter. Plus, their menu is to die for. We recommend trying the Jardin Bicyclette or the Boeuf aux Milles Saveurs.
8627 91 Rue Marie-Anne Gaboury (91 Street)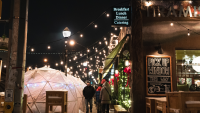 The heated patio igloos at Tiramisu Bistro are available for booking! These adorable domes on 124th Street are the perfect setting for a romantic date night or a special occasion. Tiramisu Bistro is an urban eatery where you can enjoy a modern take on traditional Italian fare. Fresh ingredients, wines from small vineyards, and freshly roasted coffee are all on the menu.
10750 124 Street
Experience the beauty of nature while indulging in delicious contemporary cuisine at Culina at the Muttart's fully-licensed year round patio! Located at the Muttart Conservatory, this patio offers a unique setting for a memorable meal, with stunning views of the conservatory's pyramids as your backdrop. Each dish is crafted using only the freshest, locally sourced ingredients.
9626 96a Street
Greenhouse at Victoria Golf Course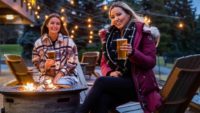 Open Thursday to Sunday (check here for opening hours), the winter patio at Greenhouse at Victoria is absolutely beautiful. Stop in after a day of exploring the cross-country ski track at the golf course, and get yourself a glass of mulled wine. Firepits will keep you nice and toasty while you roast marshmallows with one of their s'more kits (complete with marshmallows made in-house!). Winter views don't get much better than this! Note, firepits are on a first-come, first-serve basis.
12130 River Valley Road

Located in Edmonton's Old Strathcona neighbourhood, The Next Act is a beloved community hotspot with a staple winter patio. No matter the temperature, their overhead heaters are fired up! On a warmer winter day, you might even be able to shed your jacket. Enjoy quality burgers and sandwiches with amazing housemade fries. There's nothing better than comfort food in the winter!
8224 104 Street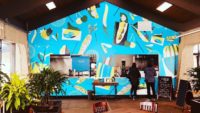 Located in the heart of Hawrelak Park, Culina on the Lake offers up tasty items to-go that pair perfectly with a day of outdoor adventure. The winter patio overlooks the frozen lake, making it a picturesque place to grab a bite. Once you're fueled up, you'll be ready to skate, snowshoe, or to explore the many trails that wind through one of Edmonton's most beautiful parks on foot. Don't wait, this is the last season to experience Hawrelak Park before it undergoes a redevelopment project over the next few years!
9330 Groat Rd. Hawrelak Park
Urban Green at River Valley Adventure Co.
Urban Green Cafe showcases a riverfront view and warm fire pits! Warm up further with a selection of in-house soups or stews. The menu also features a variety of organic teas and small batch hot chocolate, famous Urban Green Peanut Butter Granola Bars and Power Cookies, as well as a great selection of local craft beer and seasonal specialty drinks (with non-alcoholic options). After a winter adventure with River Valley Adventure Co., enjoy the river valley fireside with the café's signature Polar express coffee (local Roasti Coffee with peppermint schnapps topped with whip cream) and a smores kit, which includes house-made marshmallows.
9735 Grierson Hill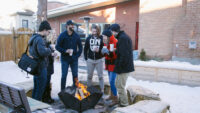 Winter patios are popping up all over the city! Here are even more locations to check out that are Jack Frost approved.