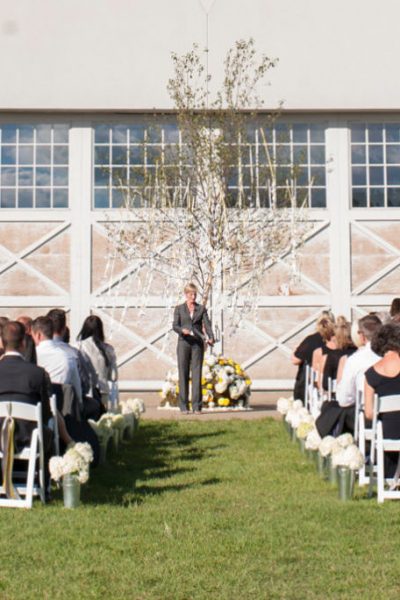 Unique Wedding Venues
For those of you looking to make Edmonton the destination for your wedding, we've teamed up with local wedding planner extraordinaire, Jennifer Bergman, to shine a light on some of Edmonton's most unique wedding venues. Jennifer and her team have been planning and designing beautiful weddings in Edmonton and abroad for over 8 years. Check out Jennifer's picks below to make your big day that much more special!
Transformation Potential: Art Gallery of Alberta
This architectural stunner in the heart of Edmonton's downtown can host all your wedding events, making it a convenient option for couples looking to streamline their day. Begin with a romantic ceremony in the theatre, enjoy cocktails and urban views on the 3rd floor terrace, then host a delicious dinner on the main level in Manning Hall. Offer your guests a unique wedding favour by providing access to the exhibits. Most comfortable for 180 attendees.
Dramatic Blank Slate: ATB Financial Arts Barns
Located in Edmonton's popular Old Strathcona area just off Whyte Avenue, the Arts Barns' Westbury Theatre offers a unique setting for wedding ceremonies and receptions. Built-in lighting capabilities and dramatic theatre backdrops provide intriguing ambiance and make this venue a favourite for creative visionaries. Bookings include a highly skilled in-house technician to operate the theatrical lighting. Another plus? Bring your favourite caterer. Best suited for under 200 guests.
Rustic & Cozy: Old Timers' Cabin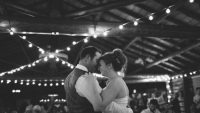 With a log cabin feel, Old Timers' Cabin is perfect for couples after the 'shabby chic' theme. Hire your favourite caterer and bring in your own bar selections for a personalized food and beverage experience. Conveniently located near downtown, guests have ample options for nearby accommodation and transportation. Keep your guest count under 200 for a seated dinner and dance.
Gem in the River Valley: Edmonton Country Club
You don't need to be a member of Edmonton's first private golf and country club to host an event at this historic property. The dramatic views of the river valley and city skyline provide an ideal setting for momentous celebrations. Your guests can order their entrée at the wedding – no need to request meal selections in advance. Having a summer fete? Hold your dance outdoors on the patio under a tent! Best suited for 150 guests.
Summer Lovin': Blatchford Hangar at Fort Edmonton Park
Set in historic Fort Edmonton, the Blatchford Hangar's tall wood beam ceilings and concrete floors give this space a trendy warehouse vibe. The large hangar doors open up to an expansive green space, making it a perfect venue for summer weddings. No B-list required – the Hangar accommodates up to 450 guests.
Best View: Edmonton Convention Centre Riverview Room / Hall D
With floor to ceiling windows, Edmonton Convention Centre's Riverview Room (cap: 130) and Hall D (cap: 1000) offer stunning views of Edmonton's river valley, providing a gorgeous backdrop in every season. Clean lines and modern styling make the centre's spaces easy to personalize with décor, and you can have a corkage bar for weddings (a huge plus, especially for larger celebrations).
Unique and Intimate: Rutherford House
Rutherford House Provincial Historic Site is a venue that offers a unique and elegant environment for your special day. With the capability to accommodate up to 55 guests, Rutherford House boasts a small boardroom, an exhibit area, and a garden, all of which can be privately booked for private functions and special occasions. Rutherford House will definitely leave a lasting impression to your guests with its historic elegance and charm.