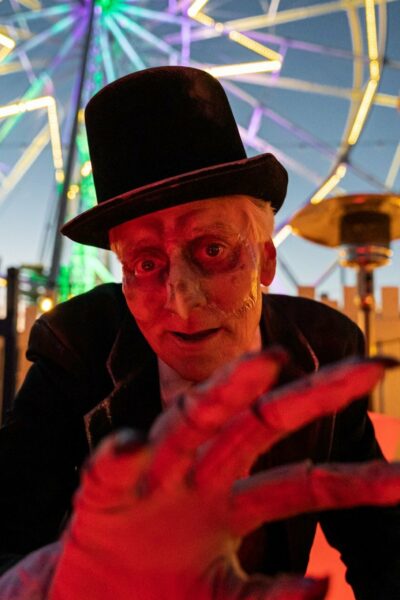 Things to Do in Edmonton This Halloween
Calling all ghosts and ghouls! Spooky season is upon us once again, and Edmonton is packed with haunted happenings you won't want to miss. Find your cloak, put on your mask, and sink your fangs into all the fearful festivities happening this season. It's Halloween, witches!

DARK at Fort Edmonton Park
Find out what lingers deep in the shadows of Edmonton's river valley and feel the fear in every fibre of your being. DARK offers three wicked experiences that will leave you sleeping with one eye open. Come for the scares, stay for the food and fun. From local food truck favourites, to spooky cocktails, to a live DJ spinning spooky beats, DARK is Edmonton's haunted festival, and you won't want to miss it!

October 6-29
We guarantee you've never seen this many pumpkins at once! Pumpkins After Dark features more than 6,000 hand-carved pumpkins. Explore the magical pathway of lit pumpkin displays with music and special effects. With classic Halloween characters, dinosaurs and dragons, movie and pop culture icons – this family friendly event has something for everyone.
September 22 - October 31
Costumed creepers, a haunted labyrinth, and a ton of musical acts! SCREAM, Canada's largest and longest running Halloween dance event, returns on October 28 at the Edmonton EXPO Centre. Get your groove on and enjoy the spooky vibes! You won't want to miss this Halloween's hottest event.
October 28
No Halloween is complete without a haunted house! Over the past decade, Deadmonton has been terrorizing Edmontonians, starting in a small warehouse behind MacEwan University and moving to the spooky Paramount Theatre on Jasper Avenue. This year, don't miss out on the frights as they unveil their chilling new location at the Edmonton Sun building.

September 29 - November 4
A touch of Halloween charm blended with a hefty dose of cuteness! Boo! At the Zoo is perfect for little ones, with delightful activities and tons of furry creatures to discover. Dive into the zoo's enchanting Halloween celebration, complete with special guest characters, and gather candy at the trick-or-treat stations scattered across the zoo. Visit your beloved animals and witness them savouring treats of their own!
October 21, 22, 28, 29, 2023
Each year, the Edmonton Corn Maze creates new themes designed to get thousands of visitors turned around. From the air, the maze looks like a beautiful artistic pattern. On the ground, it tests your sense of adventure (and direction). With other farm activities including a pumpkin patch and local market, the Edmonton Corn Maze is the perfect place to spend an October afternoon!
September 5 - October 22
Discover Edmonton's Haunted History
Join host Nadine Bailey on spooky ghost tours through some of Edmonton's historic landmarks. October is the perfect time to learn some eerie Edmonton history! Be sure to keep your eye out for otherworldly sightings – there are more than a few stories about spirits that have been spotted in the area. Boo!

Various dates and locations around Edmonton

This Halloween, gather up your courage and enter a beautiful venue for a special concert on Friday the 13th featuring thrilling soundtracks that will bring a chill to your spine! Let the Listeso String Quartet perform a mix of classic and modern spooky pieces including music from Ghostbusters, Stranger Things, Beetlejuice, and more. By the dim glimmer of candlelight, your eyes will be tricked—and treated!
October 13
Pumpkin Patch Haunted Harvest
Discover why an autumn outing to the pumpkin patch during this charming month-long Pumpkin Patch Haunted Harvest Fest is an annual tradition for many Edmontonians. Head out to Prairie Gardens & Adventure Farm for this signature event. Take a walk through the spooky ghost town, creep through the haunted farmhouse, or enjoy some live entertainment. Did we mention that there's also a pumpkin cannon?! Oh my gourd!
Every weekend from mid-September until Halloween
Fright Night at Galaxyland
Sneak over to West Edmonton Mall this month for some spooky special events. Kick off your Halloween weekend at Galaxyland with the revival of Fright Night! The music will be loud and the lights will be dimmed. Experience adrenaline rush rides, thrilling illusions, a spooky haunted house, and a treat bag for all!

October 28

The Laser Halloween Spooktacular
The TELUS World of Science is embracing the Halloween season with a ghoulish laser show! The Laser Halloween Spooktacular weaves together hauntingly delightful melodies and captivating visuals to conjure up a thrilling treat for Halloween enthusiasts of all ages.

October 30-31
Searching for some hair-raising films to enjoy this month? Look no further than Metro Cinema! They have an array of Halloween classics lined up for this eerie season. From Friday the 13th to The Rocky Horror Picture Show, this cinematic marathon guarantees to send shivers down your spine.
Various dates, The Garneau Theatre
Experience an enchanting evening with Spirits at DOSC, where libations, Burlesque, and ghostly tales converge! The House of Hush Burlesque troupe will cast a captivating spell as you savor a divine elixir in the form of our mystical welcome cocktail or mocktail, all while entrancing performers gracefully glide around your tables. This exclusive adults-only event is an absolute must-attend.
October 31