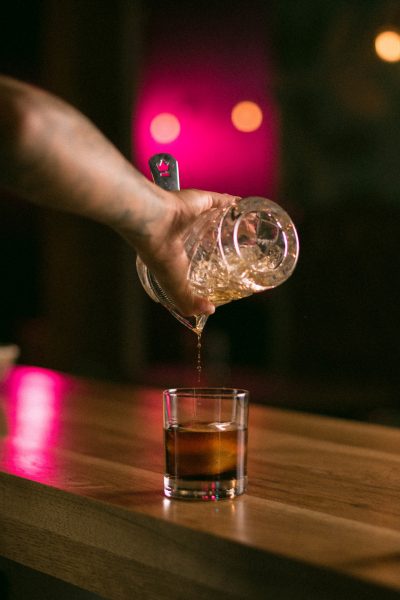 The 10 Best Cocktail Bars in Edmonton
Whether you're looking for the perfect place for a classy pre-party cocktail or a cozy corner to settle into, look no further than our top 10 places in town to kick back and enjoy an aperitif (or three!).
Named one of the top ten bars in Canada, Clementine is an ode to a bygone era, with roaring 20's style decor and a bar founded upon classic cocktails. Come for a quick drink or stay for a few at this stylish bar in Edmonton's Oliver neighbourhood. Not sure which drink to pick? Let the bartender know what you like and they'll come up with your new signature cocktail.
Hidden in Edmonton's Highlands neighbourhood, Bodega is an ode to Spanish tradition with a style that is both casual and sophisticated. If you're looking for the perfect date night, snuggle up here. Spirit enthusiasts must try the gin and tonic.
When you mix hip-hop music, Cantonese cocktails and Asian inspired eats you get Baijiu (pronounced "Bye Joe"), a cooler than cool bar in the heart of Edmonton's arena district. If you want the ultimate experience, take a seat at the bar and watch as the masters work their magic (their bartenders are dead serious about their craft) and imbibe into the wee hours of the night.
And for those who enjoy their drinks with a dash of mystery, ask the hostess about their hidden speakeasy named "Little HK." Shhh, you didn't hear it from us...
Located on the main floor of the historic McLeod building, Woodwork is a chic, modern, and unpretentious cocktail bar and kitchen. Their claim to fame is their wood-fired cooking and an impressive cocktail menu. Check out their lengthy cocktail list packed with innovative takes on classic drinks or ask the expert bartenders to craft you a speciality elixir.
Opened by the same crew behind Corso 32 and Uccellino, Bar Bricco is a 30 seater Italian wine and spuntini bar that is not to be missed. Take a seat at the bar and get ready to indulge in the best Negronis in the city.
Think Harry Potter mixed with a 19th Century estate and you've entered into the library-styled Confederation Lounge at the Fairmont Hotel Macdonald. Settle into one of the plush chairs and enjoy a cocktail while you admire the view of Edmonton's river valley. Pinkies up!
Brought to you by the Next Act and MEAT family, PIP is a small 28-seat restaurant that packs a punch. Perched on a corner just off Whyte Avenue, get cozy in this space with a vibe that is equal parts minimalist, hip and sophisticated. Sip on their Elk Island Ice Tea - a refreshing and unique take on the classic drink and be sure to snag an Instagram pic of the gorgeous interior.
After spending your day on Whyte Ave shopping 'til you drop, Ampersand 27 is a stylish place to quench your thirst and dive into the sophisticated menu of eats. You'll be impressed by their vast selection of liquor and the knowledge of those behind the bar. Pro-tip: Take a seat at the unique bar, which is a topic of conversation in itself.
Comfort food? Casual Atmosphere? Delicious Cocktails? Check, check and check. MEAT is on our list as one of the best places in Edmonton for cocktails and of course, mouthwatering eats. With an extensive list of bourbon-based cocktails, beer, and wine, there is something for everyone. You're probably going to want to plan a cab ride home.