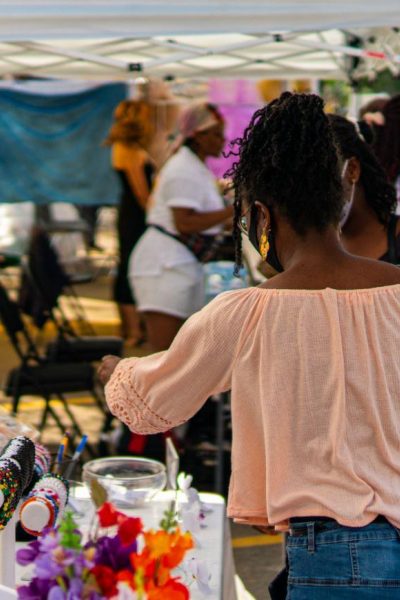 Support Local: Black Owned Businesses in Edmonton
Edmonton's local business community is as diverse and brilliant as its people. Our city is home to talented Black artisans, restauranteurs, artists and entrepreneurs who are blazing trails as industry leaders and innovators. Check out these Edmonton owned and operated businesses, and keep in mind that there are many more Black-owned businesses in the city! We recommend going to AfroBiz.ca for even more ways to support local. Many of these businesses also provide delivery!


As you explore, be sure to continue practicing safe spatial distancing, frequent hand washing and following the guidelines put in place to keep everyone safe!
BOM YEG Black Futures Market
Celebrate Black History Month at the Black Futures Market presented by BOM YEG! Visit the market at the Manning Hall, on the first floor of the Art Gallery of Alberta for a two-day market featuring over 15 Black-owned businesses and services. Entry is free to the market; however, guests will need to buy a ticket for admission into the gallery. Come by and discover local handmade goods, artwork and items by Alberta's Black community.
February 5 & 6
Take your tastebuds on a tour and explore some of Edmonton's finest eateries. Our advice? Arrive hungry for authentic flavours and inventive dishes that will leave you craving more. Many of the restaurants listed here also offer delivery. Be sure to check individual websites for updates!
10922 88 Avenue
The Sugar Bowl serves up over 160 craft beers alongside a delicious menu for any meal of the day. Pro tip: you gotta try the cinnamon buns.
10926 88 Avenue
The Sugar Bowl's sister eatery, Eleanor & Laurent, is a café, boulangerie, patisserie, rotisserie, charcuterie, and meeting place. Come for the to-die-for pastries, stay for the elegant decor.
9920 82 Avenue
Discover the unique taste, style and tradition of Ethiopian cuisine at this local favourite. Plus, all meals can be made gluten-free!
11719 46 Street
Looking for the best sambusas in Edmonton? Enter Sambusa Hut. After you've licked your entrée plate clean, try their Coconut Tart for dessert. You can thank us later.
9650 142 Street
If you love pasta, Allegro Italian Kitchen is for you! Savour Spaghetti Carbonara, indulge in a plate of Linguini Del Pescatore, or switch it up with the Quattro Staggione Pizza.
10432 Jasper Avenue
Located in the heart of downtown Edmonton, El Beso is one of the city's hottest Mexican dining experiences. Enjoy mouth-watering Ancho Suadero Tacos on house-made tortillas with a side of guacamole and chips. Yum!
10418 107 Avenue NW
Habesha African Market is a staple along 107 Avenue where you can find a wide selection of African and Caribbean products including the freshest spices and fragrant Ethiopian coffee beans.
9420 118 Avenue
The Mareeg Café offers mouth-watering dishes at very reasonable prices. Here you'll find some of the city's best East African Cuisine, with authentic menu items like Foul Madamis, Anjero and more.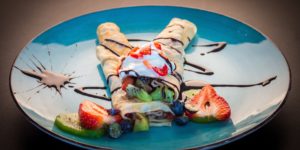 20031 46 Ave
This grab-and-go concept offers hand-made, authentic crêpes that are affordable and delicious. Add toppings of your own choosing and take your meal to the next level!
Check out their list of distributors here.
From pickled vegetables to charcuterie jellies and fruit butters, Mojo Jojo Pickles packs a ton of delicious into every jar. Find them at various retailers around the city.
3908 118 Ave
Old Beverly Cafe is a family-friendly restaurant that uses only the best ingredients in their burgers, sandwiches and sweet treats. Their brunch is life-changing, and the service is delightful!
10750 124 Street
Tiramisu Bistro features a modern take on traditional Italian fare, focusing on fresh ingredients and sustainable wines. They also serve up an incredible brunch!
10534 Jasper Avenue
By day, Lock Stock Coffee serves delicious breakfast sandwiches, creamy coffees and perfect pastries. By night, the space transforms into Red Star, a lively hotspot with great drinks and tasty Italian fusion fare.
10538 Jasper Avenue
The Bower is the ultimate spot for drinks with friends. Classic cocktails (or libations with a twist) pair perfectly with their snack menu. The lively atmosphere makes this the perfect place to spend a night out on the town.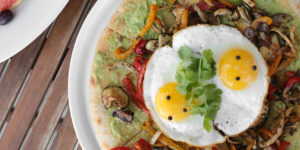 Find your new look when you peruse these beautifully curated boutiques, or order from a talented local designer. Many of these retailers primarily sell their goods online, making it easy to get the latest fashions delivered straight to your door. Check out their individual websites for additional details!
12433 102 Ave
Fore! Find everything you need to look great on the green at MGC Boutique. In addition to their golf lines, they have lifestyle collections that are flattering for every body.
Made by the loving hands of female artisans, Msichana designs are dramatic, vibrant, and colourful pieces that elevate the spirit. This brand believes that every woman is a masterpiece - and you can see that reflected in the quality of each garment.
8206-104 Street
Find the coolest clothes for kids at Lil'Rascalz Shop! You'll have the best dressed kid on the block after stopping into this locally owned boutique.
Buno Design is an ethical women's wear, accessory and lifestyle brand. They create handcrafted jewellery right here in Edmonton, using recycled and vintage resources. This is where you'll find one-of-a-kind pieces to enhance your own unique style.
MKCurvy is a brand built for the modern-day woman with a discerning eye for fashionable clothing made from exquisite fabrics with an African vibe. Their aim is to accentuate a woman's curves regardless of size!
Divineity Fashion is a clothing line that creates apparel to match your personality and style. They use ethically and environmentally friendly producers to create their designs. You'll find a beautiful look for every occasion.
Established in 2018, YEGMG Apparel brings you contemporary urban streetwear and active wear. Take any outfit to the next level with their jackets, windbreakers, hoodies and crewnecks.
KYN Apparel is an Edmonton based fashion brand that designs fresh, unique and bold fashion pieces. Here you'll find a blend of African prints with fabrics like lace, tulle and denim!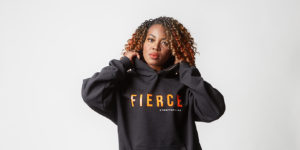 Experiences, Services & More!
The local love doesn't stop with restaurants and boutiques! Check out these Edmonton businesses offering unique experiences, services and much more.
Various breweries around the city
Add a little hoppy-ness to your day with Alberta Craft Tours. This locally owned company offers private brewery tours and bookable tastings for you to enjoy. Bottoms up!
6009 86 Street
The team at The Bar Fitness will help you reach your goals by improving your lifting technique and helping you get the most out of your workout. They don't just set the bar, they ARE the bar!
This custom cake boutique specializes in beautifully designed wedding and celebration cakes using ingredients of the highest quality. Brianne's flair for tasty confections will surely take your event (or at home celebration) to the next level.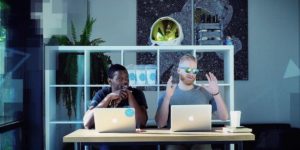 10945 120 Street
Take some time to relax and recharge in one of Modern Gravity's float tank rooms. Floatation therapy and sensory deprivation come together in one meditative and soothing experience.
12068 104 Ave NW, Suite 213
Pamper yourself at the Melanin Studio - experts in skin and body care for all! Enhance your inner and outer glow with facials and body treatments that will leave you feeling refreshed and radiant.
150 Chippewa Rd #182, Sherwood Park
This gorgeous beauty boutique offers up unique handmade beauty products including false eyelashes, makeup, nail polish and more. Made by hand in small batches, their products are a step above the ordinary.