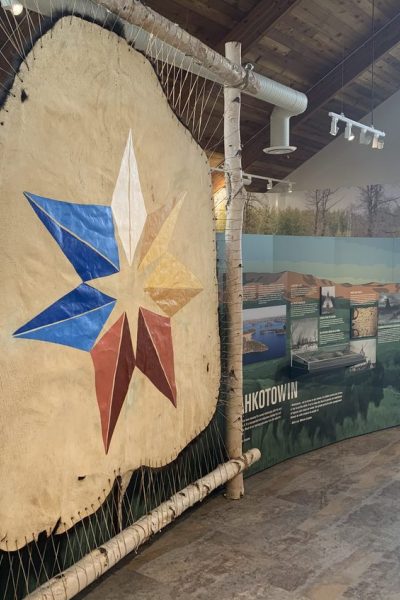 Indigenous Shopping Guide
Looking for unique souvenirs and gifts in Edmonton? With a rich Indigenous culture and history, there are plenty of local artisans selling their handmade items in the city. Support local and Indigenous artists by purchasing their beadwork, handicrafts and more. These local artisans make gift giving easy!

Some of the retailers listed here may be offering modified services at this time. Please check the business' individual website or social media for the latest details.
Indigenous Empowerment Collective
The Indigenous Empowerment Collective is composed of 9 local Indigenous fashion designers who are from various backgrounds including Cree, Mohawk, Blackfoot, Navajo, Cherokee, Dene, Maori and Métis. The collective hosts a variety of fashion shows throughout the year!
Michif Cultural Connections
Located in St. Albert, Michif Cultural Connections is a historical museum and centre celebrating Métis culture. Operating year-round, they offer beading, moccasin and leather workshops, and also have a gift shop area where they sell local Métis work.

Elk Island National Park Visitor Centre
Elk Island National Park's visitor centre is one of the first Parks Canada visitor centres to sell local Indigenous work! Elk Island works with surrounding tribes and urban artisans to sell their products at the gift shop year-round. Make sure to check it out the next time you head that way to see the bison!
The Grow Centre
The Grow Centre on Whyte Avenue is an Indigenous run co-working and workshop space. The owner and operator (also the owner of Nikawiy Handmade) often has pop-up shops throughout the year featuring local Indigenous artists. Follow them on social media and stay tuned for the next pop-up!
Câhcacêp Art Gallery and Tea House
Cahcâcêp is an Art and Tea house located in the Arts Hub. They specialize in promoting and selling the works of local Indigenous designers, artists, artisans and more! Câhcacêp features workshops, seminars and is a cozy place to grab tea and look at local indigenous art! Check out their Facebook page for opening times.
Royal Alberta Museum Gift Store
The Royal Alberta Museum's gift shop is a great place to shop for unique gifts. More than half of the store is filled with local and Indigenous products from all over Alberta. You can find several local, Edmonton-based artisans' work including Cree-Ative Designs and Metisgirlbeads.
Ôte Nîkân Papaschase Petro Canada
Ôte Nîkân Papaschase Petro Canada (located on Calgary Trail between 23 Avenue and 34 Avenue) is the first Indigenous owned gas station in Edmonton. However, it is much more than just a gas station! Ôte Nîkân has a huge selection of locally handmade Indigenous artisan work for purchase. So next time you're gassing up, make sure to stop by.
There are many more local Indigenous artisans in Edmonton who aren't a part of collectives but are very active on social media. Be sure to look around Facebook and Instagram for other Indigenous artists and handcrafters to follow. Happy shopping!