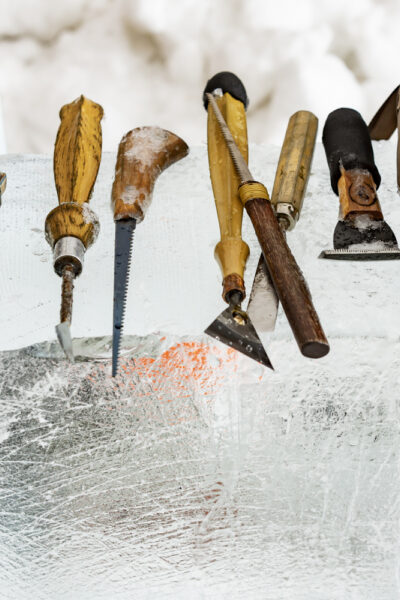 'Ice on Whyte' becomes 'Chiseled'
It's probably fair to say that a lot of people and organizations learned some big lessons during COVID-19. Perhaps you're shuddering thinking back on that growth, but the Chiseled festival, formerly known as Ice on Whyte, couldn't be happier with its takeaway from the multi-year stretch! Really, it's about growth by making things smaller. Ice on Whyte always had two components: a large ice carving competition as well as a smaller community event that engaged Edmontonians with sculptures, demonstrations and hands-on activities.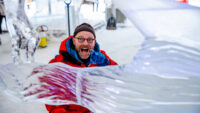 "The two kind of butted heads," admits Jill Roszell, producer of the Ice on Whyte Festival Society, soon to be called Activate Arts Alberta. "What last year really taught us was the benefits of doing smaller pop-up events. Our outreach program has us busy with winter programming in a number of places all over Alberta. We built Snow Way Out, the maze at Fan Park next to Rogers Place. We built slides in Fort Saskatchewan, and we just did a festival in Grande Prairie."
Roszell added that it's been really rewarding to engage with so many more people, and as an added bonus, carvers and festival employees are staying employed for the whole winter season instead of just two weeks. "You line that all up, and you can see why we're transitioning to a different phase."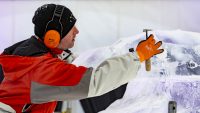 This year, the international ice carving competition makes its return after three years. It will be called 'Chiseled' and will be held at the ICE District downtown, running from January 24-26. "If you're in downtown Edmonton or in Edmonton area and want to watch them carve, then come down to the ICE District plaza those dates and you'll actually see them work," said Roszell. "We have some of the top carvers in Canada coming to this event."
The benefits of moving to Ice District include the ability to leave the structures there for display; they're sheltered within the confines of Rogers Place and its surrounding buildings which means no need for a tent like in Old Strathcona. "They're bigger and that much more intense," said Roszell.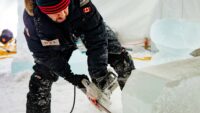 An Ice on Whyte event will return to Dr. Wilbert McIntyre Park just north of Whyte Ave, and will look much like you've seen before, with sculpture garden ice carving demonstrations and opportunities to try your hand at ice carving. This is the last year it will be called Ice on Whyte and it runs through the weekend of January 27-29.
But with the end of the festival named Ice on Whyte comes big opportunity for the future. It's not likely to be the end of programming in the area. "We'll have to grow within our capacity because we're a small company," said Roszell, "but there's endless possibilities in this."
Check out Chiseled: Edmonton's International Ice Carving Competition from January January 24-26. Then, take a chippers class at McIntyre Park from January 27-29, with ice sculpting demonstrations, lessons, and more!