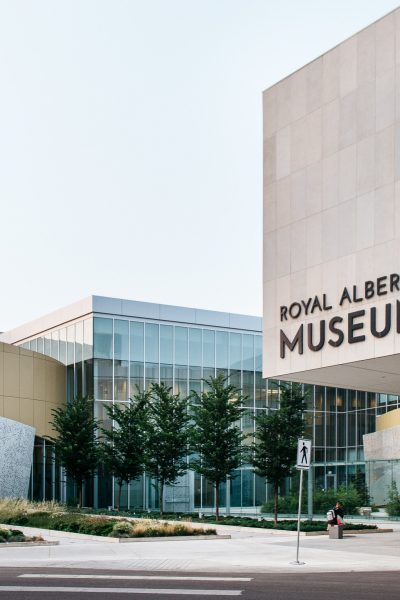 Guide to the Royal Alberta Museum
In the heart of downtown Edmonton, the Royal Alberta Museum (known to locals as "the RAM") pulls the curtain back on Alberta life and landscape in a remarkable journey from petroglyphs to prehistoric dinosaurs, and from 500 generations of First Peoples to new beginnings on the windswept prairies. Feed your curiosity here.
82,000 square feet of history
We hope you packed your comfy shoes! The Royal Alberta Museum is Western Canada's largest museum, bringing you more than 82,000 square feet of exhibition space, and housing a large and wide-ranging collection of artifacts to foster wonder, inquiry and understanding about Alberta.

Basically, if you like space rocks, live bugs, enormous dinosaurs, wildlife, and much much more, you're in for a real treat.
Each of the more than two million objects in the RAM's collections not only has a history but a story and when pieced together you'll begin to discover what makes our fine province remarkable.

The Natural History Hall packs a billion years into one visit. Spot giant sloths, mastodons, sabre-toothed cats and full sized-moose as you take a journey through alpine meadows and windswept grasslands. Feel young again, discovering remarkable dinosaurs to giants of the Ice Age. Experience a history of Alberta you won't find anywhere else, through the eyes of the people who formed and transformed our province. Feel a chill down your spine as you meet the creepy and hairy, from black widow spiders to the hard-hitting Mantis Shrimp in the Bug Gallery.

For the Young and Young at Heart
Step into 7,000 square feet of interactive exhibits, discovery areas and creative spaces for the little ones to explore. Youngsters can learn about weather and the environment, explore their inner performer and put on a show in the Chautauqua, cuddle up with a good book in the reading nook, create a symphony of sound, dig for their own treasures, learn how paleontologists unearth mysteries of dinosaurs and so much more.

Drop in programs in the Children's Gallery are free with the price of admission.
Insider Tip: The museum is closed on the last Monday of every month, with the exception of the week of spring break (March or April) and December. Children 6 and under are always free.