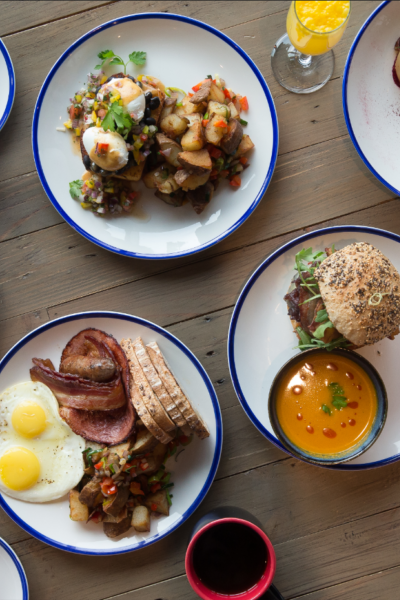 Gluten-Free Restaurant Guide
From hole-in-the-wall eateries to fine-dining restaurants, more and more Edmonton chefs are accommodating patrons in search of gluten-free goods. Edmonton's GF dining scene has certainly come a long way in the last 10 years; in neighbourhoods across the city, a diverse assortment of wheat and gluten-free bites can be found. Have a Celiac or gluten-free friend or loved one who hates feeling restricted by dining options? Check out this list of Edmonton eats where taste and quality never feel compromised for either dining party.
As you discover Edmonton's incredible restaurants, be sure to practice safe physical distancing, frequent hand washing, and following the guidelines put in place to keep everyone safe.
This dedicated gluten-free bakery on Stony Plain Road serves up chocolate eclairs so tasty even non-Celiacs are customers. Their freshly baked bread is the perfect base for a grilled ham and cheese sandwich, and those with a sweet tooth will have to decide between the jelly-filled donuts, tarts, squares, and frosted cupcakes. Pre-orders are accepted, and often essential, especially to guarantee a three-pack of their cinnamon buns before they sell out.
Yelo'd Ice Cream and Bake Shoppe
Join the lineup at this Whyte Avenue hot spot for a taste of Filipino and Asian inspired flavoured ice cream where almost all the soft-serve options are Celiac friendly. Check out their ube (purple yam) marshmallows, which are used to make custom gluten-free fruity pebble (krispie) squares for Celiac customers.
Mamenche's is a hidden gem with great-value prices in the Central McDougal neighbourhood. This family-run, El Salvadorian restaurant serves up some of the city's best corn-based tamales and cheese stuffed pupusas (cornmeal flatbread) to the lively sounds of Latino music.
From Piri-Piri chicken to the lobster risotto, Sabor's menu is for people who love Spanish and Portuguese cuisine. As a fellow Celiac, executive chef Lino has ensured that wheat and gluten-free diners have access to the best meat and sustainable seafood dishes in the city, both at Sabor, and their three sister Bodega Tapas and Wine Bar locations.
Head to Chinatown for a taste of pho from the legendary Mustache Man at King Noodle House. Owned and operated by Vietnamese refugees turned Canadian citizens, the Hoang family has been serving up authentic, Vietnamese noodle soup for over 20 years. Not all ingredients are GF, so keep it classic with the beef noodle soup with steak and brisket.
Tucked away in a Millwoods strip mall, this south-Indian restaurant is another family-run hidden gem that has been serving up food from Kerala for over 15 years. Celiacs can rejoice with Masalaz's plethora of gluten-free options including their buffet which includes masala dosas, rice and lentil based idly and vadas, and coconut flavoured curries.
Get your sushi fix at this modern Japanese restaurant on Jasper Avenue, which has a dedicated gluten-free menu featuring new style and cherry blossom rolls. Check out their website for the latest specials.
Sunday brunch in the Empire Ballroom, cocktails with a side charcuterie board in the Confederation Lounge, and signature culinary events in the Harvest Room can all be made to accommodate gluten-free dinners at the Fairmont Hotel Macdonald. Pull up a seat on the best patio in Edmonton – eating gluten-free never tasted or looked so good.

Note: The Harvest Room is temporarily closed. Stay tuned for the latest reopening updates here.
Otto Food and Drink is a welcome addition to the Norwood neighbourhood that serves up a simple menu of sausages, sides, and tasty beverages. Chef Furgiuele has transitioned from selling his FUGE brand of sausages at local farmer's markets to FUGE at Otto. Most sausages, like the Italian fennel, are served gluten-free with a small side of sauerkraut and pickles.

Chef Paul Shufelt's restaurant in Summerside is a welcome relief from fast food and chain restaurants for southeast Edmonton residents. The brunch, lunch, and dinner menus are stacked with gluten-free options, from appetizer to dessert. Enjoy the eggs benedict or a burger, modified on a GF bun of course, on their full-sun patio all summer long.