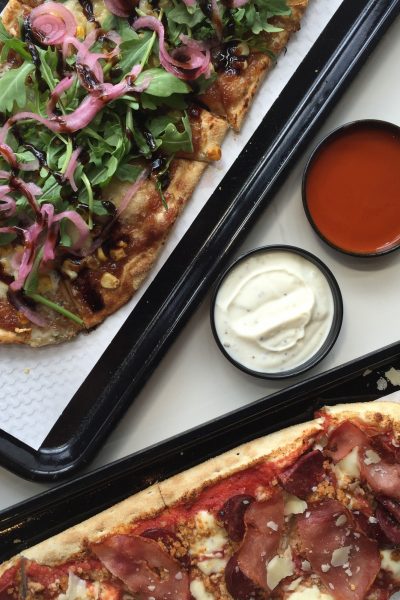 Edmonton's Best Pizzerias
Edmonton's best pizza is like the city itself: unpretentious, ambitious and authentic. Old school pizzerias and chic Neapolitan pizza joints have made Edmonton's pizza scene amongst the most respected in the world. Italian tradition and modern culinary flair collide at many of the city's pizzerias, creating new and innovative slices that you need to taste for yourself.
If you don't think of pizza as a breakfast food already, then you will after visiting Café Leva. Nestled on a quiet street just off the University of Alberta campus, Café Leva serves up high-quality pizza pies and top-notch coffee. This is the perfect way to start off a morning of exploring the hip Old Strathcona neighbourhood.
Amongst the newest entries to Edmonton's pizza scene, LovePizza is for people who, you guessed it, love pizza. Serving up thin crust, individual pizzas with names like Holy Shiitake, Ode to Ukraine and Pie on The Fly, you can count on having an untraditional pizza experience at LP. Ask about the weekly special to try something extra unique.
A passion for Italian authenticity, an extensive drink list, and a charming vibe make Rosso Pizzeria the premiere pizza date spot. A lack of love for pizza can be a real deal-breaker, so it's best to find out early. If things don't work out, order a Pera E Prosciutto pizza to-go to ease the heartache. If a connection is made, then order the titular Rosso pizza to add a little extra heat to the night.
You might not be surprised to hear that some of the best pizza in Edmonton is coming from the kitchen of a guy named Tony. Tony Mazzotta Sr's Pizza Palace came to Edmonton from Cosenza, Italy via a stint of pizza-slinging in the Bronx. Tony's New York style pizza has repeatedly been recognized as the best slice in Edmonton.
Feel free to opt for the arancini, veal parmigiana or fettuccine —they're all good too—but pizza is Parlour's speciality. Opt for their interpretation of a margherita pizza, The Queen, or the always tasty Prosciutto pizza. Once you've experienced Edmonton's nightlife, you'll want to try Parlour's "Hangover Pizza" to help speed your recovery.
Although it's not the first pizza chain started in Edmonton, Famoso might offer the consistently most authentic, fire-roasted Naples-style pizza in Canada. Their pizza menu is split between classic pies that have been around as long as pizza itself, and New World creations that mix in modern flavours. Seven locations in Edmonton means there is no excuse not to sample some high-quality pizza while in town.