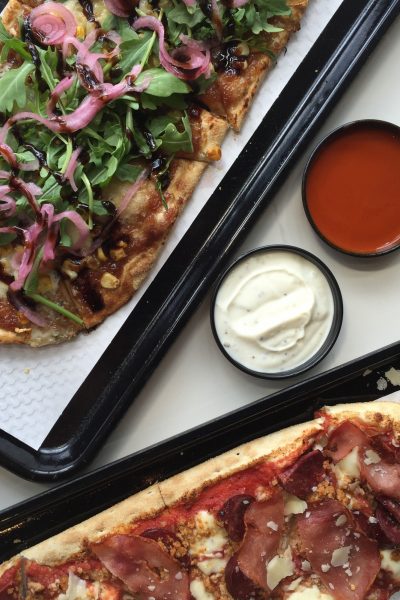 Edmonton's Best Pizzerias
Edmonton's best pizza is like the city itself: unpretentious, ambitious and authentic. Old school pizzerias and chic Neapolitan pizza joints have made Edmonton's pizza scene amongst the most respected in the world. Italian tradition and modern culinary flair collide at many of the city's pizzerias, creating new and innovative slices that you need to taste for yourself.

Many of the pizzerias listed here are continuing to offer curbside pick-up or delivery as they begin to reopen. Be sure to check the individual restaurant's website for updates before you stop by to order or plan to dine-in, and continue following the guidelines put in place to keep everyone safe!
LovePizza is for people who, you guessed it, love pizza. Serving up thin crust, individual-sized pizzas with names like Holy Shiitake, Ode to Ukraine and Pie on The Fly, you can count on having an untraditional pizza experience at LP. Ask about the weekly special to try something extra unique.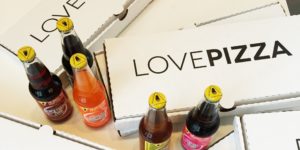 Frequently voted the best slice in Edmonton, Ragazzi serves hand-tossed, thin-crust "pizza volare." They mix old-school Italian tradition with some modern twists. If you're a fan of a little spice, try the Davide's Inferno!
One of the newest entrants in Edmonton's competitive pizza scene, Pink Gorilla cooks old fashioned dough in an old fashioned oven. That's where tradition ends, however, as PG tops their pizzas with modern ingredients like spicy gingered beef, octopus and curried chickpeas (with cashew cheese for a vegan option).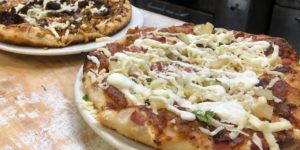 Sepp's is ready to supply you with a pizza feast! They serve up big, gorgeous New York-style pizza pies that taste just as good reheated the next day, so go ahead and order that second pizza you want. Sepp's offers both pick-up and delivery, so you can enjoy pizza night with the whole family in the comfort of your home. You gotta try the Emilia - just trust us!
A passion for Italian authenticity, an extensive drink list, and a charming vibe make Rosso Pizzeria the premiere pizza date spot. A lack of love for pizza can be a real deal-breaker, so it's best to find out early. If things don't work out, order a Pera E Prosciutto pizza to-go to ease the heartache. If a connection is made, then order the titular Rosso pizza to add a little extra heat to the night.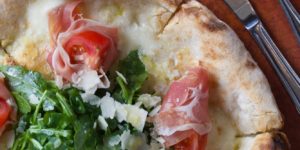 You might not be surprised to hear that some of the best pizza in Edmonton is coming from the kitchen of a guy named Tony. Tony Mazzotta Sr's Pizza Palace came to Edmonton from Cosenza, Italy via a stint of pizza-slinging in the Bronx. Tony's New York style pizza has repeatedly been recognized as the best slice in Edmonton.
The crew at Three Boars knew their usual dine-in experience of small plates, cold pints and craft cocktails wasn't going to work in times like these, so what was their solution? Pizza. They've launched High Dough, slinging deep-dish Detroit-style pies. Yep, pizza is definitely the answer this time folks!
Some people will tell you to go to the brand new downtown brewery Campio Brewing Co. for their beers, which are great. But we're actually going to recommend you go there for the pizza. These deep-dish personal-sized pizzas are all kinds of delicious and the perfect meal before or after a downtown outing.