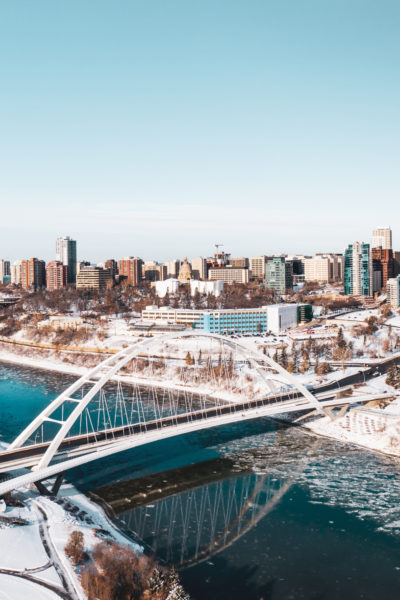 Guide to Celebrating Sustainably in Edmonton this Season
Trim down on holiday excess (and your carbon footprint) with this eco-friendly guide to sustainable gifting. With the holiday season arriving, we encourage everyone to try making the holiday season a bit greener as you gather around the tree. Whether you are looking for a unique gift or a way to reduce waste and support local this season, consider giving a gift that will give back!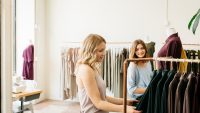 Edmonton is a vibrant community with thriving creatives, ideas, and talent. Support local by purchasing artwork from an Edmonton-based artist or visit a retailer like Vivid Print for beautiful local pieces. Discover a cornucopia of unique treasures at one of the city's famous farmers' markets like the Old Strathcona Farmers' Market or the Edmonton Downtown Farmers' Market. Check out I.A.M Collective – an Indigenous art collective with 40 members from Turtle Island.

Sustainability is Santa's Middle Name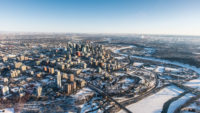 Visit Re:plenish, a zero-waste, health-focused marketplace that strives to provide knowledge and education while building relationships within the community. Earth's General Store is Edmonton's original refillery and offers to partner with you on your waste reduction journey. They house information and products that help customers reduce their ecological and social impact, encouraging the community to consume less, but also locally and ethically.

The Goodwill Impact Centre is the perfect stop for the DIYer, bargainista or upcycler in your life. The incredible work of the Goodwill Impact Centre focuses on sustainability by upcycling and selling candles, modifying old bicycles for individuals who have disabilities and producing towels and clothes from recycled textiles.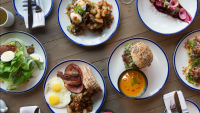 Explore Edmonton's diverse culinary landscape will have you experiencing flavours that are curated closest to home. When you support local this season, you give back to the community businesses who farm our fields and fill our cupboards. Supporting Edmonton's food businesses is an important and actionable step that shortens the travel time it takes for ingredients to arrive from the farm to your table.
Here are a few ways to support Edmonton's culinary scene:
Purchase a gift card to a local business. Discover some of Edmonton's best local restaurants here.
Send a surprise delivery to a friend or join a culinary subscription service.
Try your next culinary adventure with Executive Chef Serge Belair's French-ie Cuisine cooking tutorials.
Take an online cooking class with Get Cooking.
Pick-up specialty meats or the Field & Forest Holiday Bundle from The Butchery by RNG RD.
Have a special holiday night out at The Butternut Tree, where you'll find a menu of seasonal Canadian ingredients.
Order catering or take a private cooking class from Chef Scott Iserhoff's Pei Pei Chei Ow.

But wait, there's more! Craving a Spinach Pie that has an environmental footprint of 0.88 kg CO2e? We thought so. Check out High-Level Dinner's carbon footprint menu which will help you measure and understand your environmental impact. How cool is that?
Do-it-Yourself Gifting Ideas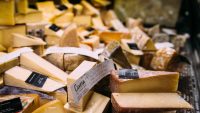 Gifting can be fun and creative. Plus, it's even better when it can be environmentally (and wallet) friendly. Do-it-yourself gifts and the upcycling of items is a great way to put some extra tender, love and care into a present. Pinterest can be a great resource for DIY ideas and the Goodwill Impact Centre, Habitat for Humanity Restore and Facebook Marketplace are the perfect go-to places for unique items that are ready to be adopted.

Consider gifting homemade treats such as baked goods, granolas, soup mixes, jams, jellies, cookies, and hot chocolate kits. Handmade products such as scrubs, balms, bath soaks, soaps, candles, and essential oil perfume blends make great gifts as well. Bonus points if you purchase your ingredients and supplies from local retailers!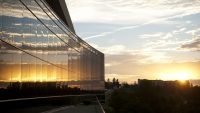 Canadians send about 540,000 tonnes of gift wrapping and gift bags to the landfill during the holiday season. This year, skip the packaging, but not the presentation. Minimize the amount of waste generated by gifting when you get crafty and make the gift wrap a part of your present.
Spend an afternoon learning how to make home-made re-useable beeswax wraps.
Create a beautiful presentation with a fabric knot-wrapped present using a scarf, blanket, tea towel, re-usable tote, storage box, or a Furoshiki.
Upcycle magazines, newspaper or sheet music as a gift wrap alternative.
Turn last year's holiday cards into this year's "to" and "from" labels.
Celebrate with an Experience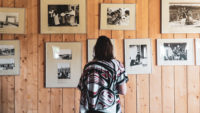 Gifting an experience can be a fun way to celebrate the holidays with zero waste and lasting memories! Not a material person? Take a gander at Edmonton's own unique and culturally rich attractions. Learn about yourself and Edmonton's biodiversity through Wild Calm Forest Therapy or discover Turtle Island's rich Indigenous culture at Metis Crossing.

Check out our Attractions & Experiences Listings for even more to see and do!
Gifts that Keep on Giving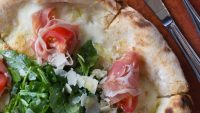 The choices we make as consumers truly make a difference. Ensuring that choice has a positive impact on the community is akin to the spirit of the Holiday Season. Choose businesses that continue to make a difference like Alberta's own Rocky Mountain Soap Company and their Community Bar Program, where $1 from each bar of soap sold is donated (in 2021, Community Bar donations totalled $44,925!). Or purchase a gift card from a restaurant that participates in "Meal Share" programming like Brokin Yolk.

Just want to give back? Consider donating to a particular charity or organization under the recipient's name and receive a letter or recognition for your contribution.
This holiday season, consider giving gifts that reduce your environmental footprint and create positive change in the community. Celebrating sustainably is a small step that makes a BIG difference as we lighten our impact on the planet. From our family to yours, have a safe and happy holiday season!
The Edmonton Convention Centre
A version of this article was originally posted by the Edmonton Convention Centre. The Edmonton Convention Centre's long-standing culture of environmental, economic and social sustainability has allowed it to celebrate sustainably for 37 years. Sustainability is the best gift you can give–and if a building this size can reduce its environmental footprint, so can you!