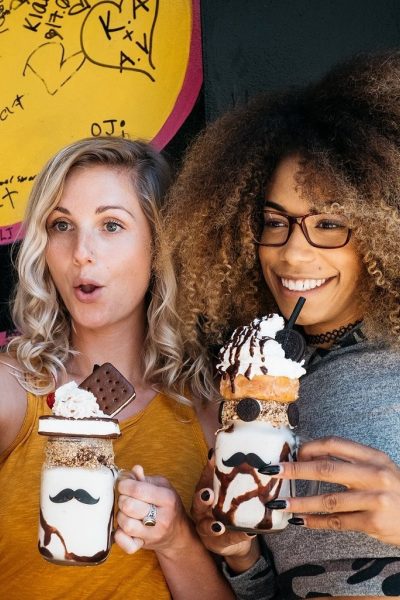 Best Summer Treats in Edmonton
Linda Hoang is a food and travel blogger based in the Edmonton area. She's always on the hunt for delicious eats and loves exploring cities through food. Linda is also the founder of the Edmonton International Cat Festival and Instagrammable Wall Photo Walks. Follow Linda on Twitter, Instagram or her blog.
If you're looking for sweet treats to beat the heat in Edmonton, there are no shortage of options! The city is home to some of the best locally-owned restaurants and food trucks sure to satisfy your sweet tooth. As you're planning your Edmonton adventures this summer, consider trying one of these delectable drinks and desserts.

As your favourite restaurants begin to reopen, be sure to continue practicing safe spatial distancing, frequent hand washing and following the guidelines put in place to keep everyone safe! We also recommend checking the individual restaurant websites for updates on dine-in availability, curbside pick-up and more.
1. Strawberry Shaved Ice Bingsu from HanJan
There are a few Korean shaved ice/condensed milk dessert spots to choose from in town, but I prefer the creamy condensed milk to shaved ice ratio at HanJan on the south side. HanJan is generous with their portion sizes too. There's just the perfect amount of strawberries in this mountain peak shaped treat which comes in a frosty steel bowl.
2. O-Matcha Ice Blended Drink from Tsujiri
Summer treats in Edmonton got an upgrade when the 158-year-old matcha tea brand Tsujiri, originating from Kyoto, Japan, opened here in 2018. Nearly all Tsujiri's green tea and latte options can come cold. I gravitate towards the O-Matcha Ice Blended to beat the heat. You can also get matcha vanilla floats, soft serve ice cream, shaved ice, parfaits and pastries here. Just perfect.
3. Soft Serve Ice cream from Yelo'd Ice Cream & Bake Shoppe
If you want something sweet and unique, pick up a Filipino treat from Yelo'd Ice Cream & Bake Shoppe on Whyte Ave. At this mom-and-pop shoppe, you'll find colourful Filpino soft serve ice cream flavours including Ube, Buko, Mangga, Pinya, Milo, and more. Flavours rotate every two weeks, and until August 2019 you can purchase a 'graffiti cone' with proceeds supporting a Rust Magic mural behind the building. Yelo'd also serves a selection of Asian flavour-inspired baked goods as well.
4. Cheesecake Tea Cup from Swiss 2 Go
I can't even with the cuteness that is the cheesecake teacup dessert from Swiss 2 Go. This cute little sandwich shop located in east Edmonton also specializes in freshly baked goods including the most unique cheesecake you'll find in the city. These desserts feature cheesecake in the shape of a teacup, complete with pretzel handle. Flavour varieties include everything from Hazelnut Almond Cheesecake to Hawaiian Mermaid Cheesecake (using fresh pineapple), a Strawberry Rhubarb Cheesecake and more! It's decadent, delicious and most definitely Instagrammable.
5. Gelato from Block 1912
Block 1912 is one of Edmonton's most celebrated dessert, gelato and coffee shops located along Whyte Avenue in Old Strathcona. It's a great space to hang out— with dark wood tones, comfy couches, chairs and local art adorning its historic walls. If you're craving a deliciously sweet frozen treat, there are two dozen gelato flavours to choose from at any time here, including some of my favourites: pomegranate, black sesame, mango pineapple and passionfruit.
6. Waffle Ice Cream from Cacao 70
Indulge in chocolate and ice cream this summer at Cacao 70 Sweet House. They put it best: 'crunch, sip, slurp, and savour your way to a state of chocolate'. Here you'll find upside-down ice cream cones aesthetically smashed atop waffles drizzled in chocolate, topped with whipped cream and fruit. These waffles are just....wow.
Watching the team at Scoop N Roll make your ice cream is almost as fun as eating it! Edmontonians love their rolled ice cream— even waiting hours for a cup back when Scoop N Roll had just one modest summer ice cream truck. Today, Scoop N Roll has six locations across the city and surrounding area (including St. Albert and Sherwood Park). It can be mesmerizing watching staff work their rolled ice cream magic. Add additional fun toppings to maximize Instagrammability.
8. Dole Whip from Yeh! Frozen Yogurt & Cafe
You don't have to go to Disney to get your pineapple Dole Whip fix. Yeh! Frozen Yogurt & Cafe stand, just outside the main food court in West Edmonton Mall, sells this tart, non-dairy, frozen pineapple soft serve complete with Dole branding and all (so, it's probably legit). Grabbing Dole Whip is the perfect cold complement to the air conditioning as you explore North America's shopping and entertainment centre.
9. Bubble Tea from Presotea in Kingsway Mall
There's been a resurgence of bubble tea shops in the city, and one of my favourites is locally-owned Presotea in Kingsway Mall which sets itself apart by pressing each cup to order with tea leaves. This results in a super fresh and flavourful drink. Try the Blush (passionfruit and strawberry) or the aptly named Summer Fruit Tea.
10. Lemon Curd Blueberry Ice Cream at Made by Marcus
Edmonton has very recently been blessed with Made by Marcus ice cream shop located in a cute alleyway off Whyte Avenue and 104 St. Blink and you might miss the narrow alley entrance from the main road, but pay attention because this handcrafted, delicious and often colourful ice cream developed by a food scientist turned macaron maker turned ice cream purveyor is not to be missed. I'm partial to the Lemon Curd Blueberry and Raspberry Cardamom, but at any given time Made by Marcus will also carry three Edmonton-specific flavours such as Odd Company Mango IPA Sorbet, Duchess Bake Shop Earl Grey and Transcend Coffee ice cream.
11. Bubble Waffle from Bubble Cream
A bubble waffle cone is the perfect portable summer treat! In Edmonton, you can get this egg-based waffle—a tasty and popular dessert street food in Hong Kong—at Bubble Cream Food Truck during the summer months. The waffle is filled with ice cream, fruits, Pocky (a flavoured stick cookie), and topped with unlimited finishings including drizzles, sprinkles, whipped cream and icing sugar. I recommend one of every finishing.