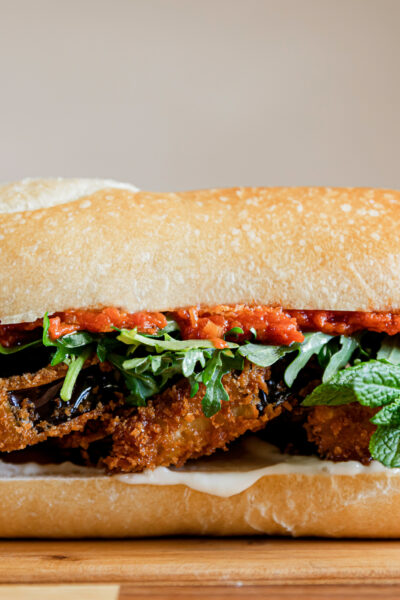 5 Best Restaurants in Edmonton to Eat Like a Local
Edmonton has a thriving food culture. It is a city of foodies who like to eat out often. You can find everything from funky food truck eats at 124 Grand Market to tasting menus at fine dining restaurants such as Yarrow. It's not surprising the best restaurants in Edmonton often make Canada's national culinary lists. There is really something for everyone whether you're looking for a special date night patio or comfort food with friends. If you're looking to explore the local joints or mom and pop shops, there is no shortage of entrepreneurs. Some of these small businesses have stood the test of time, and others are creating new waves.
From Whyte Avenue to West Edmonton, there is no shortage of stellar places to eat in Edmonton. Here are 5 spots locals love: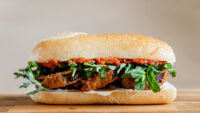 Pei Pei Chei Ow
Chef Scott Jonathan Iserhoff isn't new to the Edmonton restaurant scene. Pei Pei Chei Ow (pronounced "pe-pe-s-chew") is delight for many who embrace this Indigenous Chef's seasonal expression of land and memories. His team offers takeout in the Indigenous owned art gallery WhiskyJack Art House where his food shares stories from his life. Although the brisket sandwich is a popular menu item, TikTok creators love his eggplant sandwich. More than just delicious food, you taste some of his fondest childhood memories growing up in Northern Ontario. The eggplant is topped with tomato jam that is simmered for three hours, and reminds him of cooking with his elders. It's topped with fresh mint, which evokes the scent of walking in the forest as a child. As you wait for your order, there's no need to pull out your phone to pass the time. The walls of the WhiskyJack Art Gallery are filled with vibrant Indigenous art and artisanal products from soap and tea to local preserves and soft hand sewn moccasins.
11051 97 St NW #102, Edmonton, AB T5H 2N2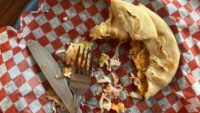 Acajutla
One of Edmonton's strengths is that it has welcomed so many immigrants that have added their own flavours to the community. Acajutla is a Salvadoran and Mexican restaurant with an incredible story. Dora fled El Salvador for Mexico in the 80s as did so many other Salvadorans during the civil war. She arrived in Edmonton and opened her first restaurant in 1989 and has been a fixture in Queen Mary Park for 20 years. It's a warm, cozy spot that invites diners to walk around to look at the artwork and newspaper clippings. Service is friendly and helpful when you're not sure what to eat. For a taste of El Salvador you can't go wrong with the pupusas. Often described as a flat bread, these stuffed tortillas are made with cornmeal and filled with bean, cheese, shredded pork or a combination of all three. Don't skip the pickled cabbage known as curtido and the salsa roja, which is a medium heat hot sauce.
11302 107 Ave NW, Edmonton, AB T5H 0Y3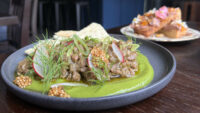 Bündok
This small chef owned restaurant serves gorgeous contemporary Canadian cuisine with authentic Edmonton hospitality. Although it opened five years ago it remains one of the best restaurants in Edmonton and continues to win awards in the city. With a small seasonal menu, every plate is an adventure. Dishes feel familiar, but with twists that are so delightful. Expect culinary surprises such as ramps and spring peas in a steak tartare. And be sure to trust your server; I was surprised that mine recommended grilled asparagus, but the accompanying smoked almond aioli was so delicious I'll never forget that dish. The bar menu is just as exquisite with interesting cocktails, wine and beer along with a number of equally lovely non-alcoholic options.
10228 104 St NW, Edmonton, AB T5J 1B8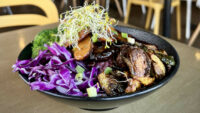 The Moth Cafe
Although Alberta is famous for its beef, Edmonton also has a flourishing plant based food scene. The great news is that many restaurants offer much more than just salad or veggie burgers making great food accessible to groups. And inventive vegetarian and vegan restaurants in Edmonton are so delicious you'll find omnivores there too! One of the most beautiful is The Moth Cafe in East downtown. POC, family and women owned, this vegan cafe has a lush dining room with plants thriving in its natural light and diners embracing its approach of food to nourish. Popular dishes include the Moth Burger and Spaghetti. The purple yam risotto also features salted caramelized shiitake mushrooms that are so addictive you'll want to take a side order home with you. The cafe also features an extensive drink menu including a kombucha bar, tea lattes and medicinal tea.
9449 Jasper Ave, Edmonton, AB T5H 3T8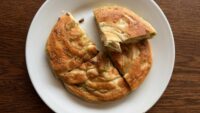 Green Onion Cake Man
No visit to Edmonton is complete without a visit to Siu To, also known as the Green Onion Cake Man. A local celebrity, he immigrated to Canada in 1978 and when he opened his first restaurant, Happy Garden, in 1980 his green onion cakes made him famous. Today you can find green onion cakes at every summer festival and many believe these salty, buttery bites of heaven should be the official food of Edmonton. You can now buy them frozen and make them at home but the experience is not the same as the restaurant, which is his second home. Most days you'll find Siu To there greeting regulars with hugs and handshakes as they visit.
9132 118 Ave NW, Edmonton, AB T5B 0T9
Edmonton is a food city and people love to eat out. These Edmonton restaurants include hot new spots, old school favourites, independents and delicious take out.
Perpetually curious on the verge of being nosey, Ayngelina knows that the door to all good conversations is opened with food. You can find more of her travels on her website, such as these Indigenous experiences in Alberta.