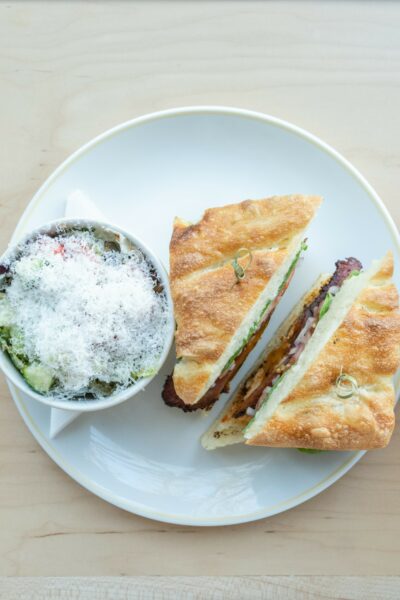 48 Hours in Edmonton with Justin Benson
Justin Benson is an Edmonton-based entrepreneur and restaurateur who has spent the last decade exploring culinary scenes across the globe. Justin takes inspiration from the world's most innovative food scenes and injects them into some of Edmonton's best restaurants as a marketing & design consultant. We caught up with him to see how he spends a weekend in our incredible city!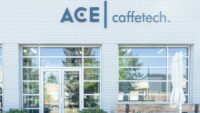 Flying into the city? Perfect. Waking up in the city? Also perfect. Either way, don't even think about wiping the sleep out of your eyes until you've had a cup of coffee from Edmonton's choice roaster: ACE Coffee. Located in the vibrant west Ritchie neighbourhood, this beautiful space houses the ACE flagship coffee shop and two in-house coffee roasters. The roasters work around the clock pumping out some of the best coffee in the country, and the beans are shipped worldwide. Recommendation: double espresso (to stay) and one of their freshly made donuts if you're feeling peckish.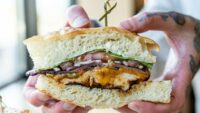 Pals is the newest concept from the ownership group that brought Edmonton the Next Act Pub, MEAT, and Pip. Their menu boasts a dozen unique and delicious sandwiches along with a dialed-in menu of beer, wine, and cocktails. It's hard to go wrong with anything on the menu, but I keep returning for their Focaccia Chicken Club. Light, fluffy bread with perfectly cooked chicken breast, crispy bacon, and all the groceries in between. They have an array of delectable sides to accompany your sandwich – snag the house salad (health, right?) and encourage your bud to get the fries on the side. The second their gaze leaves that plate, swoop in and claim a few. Fries are always great, but taste even better when they're stolen.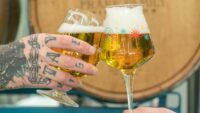 Let's keep that afternoon buzz alive with a sneaky pint at Edmonton's newest brewery: Ale Architect. Located along Edmonton's new "Happy Beer Street" with other local greats like Bent Stick, Sea Change & Monolith. Over the past few years, the crew at Ale Architect have built up a dedicated fanbase contract brewing their beer all over the city, but the time has finally come to open their own spot. What to expect – delicious flippin' beer brewed by some of the most hospitable peeps in the industry. Hit a tasting flight or sip on my favorite standby – Lil' Crispy, a clean and crisp Helles Lager that hits the spot any time of day.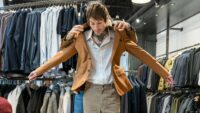 Spoiler alert – you're heading out for a spectacular night of drinks and dining tonight, and that faded Atlanta Braves shirt – it ain't gonna cut it. In steps Mr.Derk. Since 1939, the Derk family has been the go-to for classic menswear & tailoring. Housing classic brands like Alden and Anderson's as well as contemporary legends like Drake's and Pure Blue Japan. With a full in-house tailoring department as well, their expert team will have you suited and booted for a night out on the town.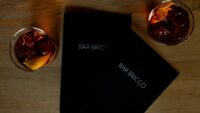 Located in the heart of downtown, all that hustle and bustle disappears the second you walk through Bricco's doors and you're transported to a lively yet intimate bar in Italy. Perfect ambience, music & design are outshined only by the incredible plates coming out of their tiny kitchen. To kick the night off – a classic negroni, alongside an order of house cultured truffle butter crostini (add anchovy, you won't regret it). The entire menu is filled with bangers, but in my opinion, the Agnolotti is not to be missed. These cheese-stuffed little pillows of joy are made in-house and served with sage butter and Grana Padano to dip in – good luck sharing! Cap the night off with a shot of Amaro and day one in Edmonton is successfully in the bag.
Hop in an Uber and head across the river for this classy & stylish place to lay your head. Located smack dab in the middle of Whyte Ave – you'll be able to find some trouble if you decide the night isn't over yet. I however prefer to fall asleep to the glow of a COPS marathon on their ensuite TVs.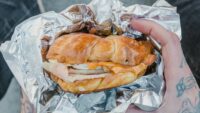 The perfect hangover breakfast doesn't exi... Introducing Zwick's Pretzels "Bacon & Egg" sandwich, AKA your $6 cure for that extra negroni you didn't need last night. Located just off 124th Street, Zwick's has been serving fresh pretzels, sandwiches, and coffee out of this quaint little shop for the past few years. Perfectly low-key, affordable, and satisfying, this one is not to be missed.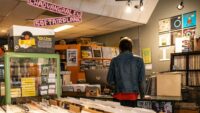 Just south of Zwick's lies Listen Records – a great lil' record shop that's been a sanctuary for music lovers for over 20 years now. The shelves are lined with the latest independent releases and the bins are stocked with that rare used record you've been looking for all your life. The perfect place to snag a gift for a loved one (or just something to add to your own collection).
Toss that newly acquired ABBA record in your tote bag, because we're hopping back across the river to finish our day off. By this time, the pretzel sandwich has done its work and you're ready for another spicy sip of something. We're headed to Color de Vino, a small but mighty wine shop located in the Ritchie area. Supplying some of the city's best restaurants with libations, their team has decades of experience in the game and can recommend the best $20 bottle of wine you've had in your life, or the $200 bottle you want to pop for that special occasion.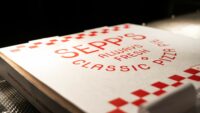 You've got a bottle of Sangiovese in hand and now you need something to pair it with. For a taste of New York without leaving YEG – look no further than Sepp's Pizza. Serving up classic NYC-style pies for the past three years, they've already become a staple in the local Edmonton food scene. Fresh ingredients, no BS, pick-up only. Hop on your Blackberry Curve, order a pie through their website, and snag it at their back window when it's ready. Eazy Peezy!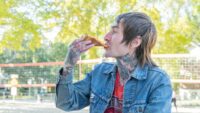 Darn it! Sepp's has no seating! Fret not – Garneau Park is located just a hop, skip and jump away. This park is the perfect place to dive into a few slices and soak up some sun. Post up at one of the tables or throw a blanket on the grass and watch the locals play volleyball at the outdoor beach court.
Edmonton is an amazing city with countless hidden gems. I encourage you to explore this vibrant metropolis on your own and shoot me a DM with your favourite spots, I'm always on the hunt for something new!