We Put It All on the Line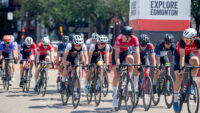 Edmonton has a strong history of hosting international and multi-sport events, but there's no such thing as a "cookie-cutter" approach here. The pandemic forced us to prioritize innovation and safety in sports hosting which in the end, only made us stronger. Uncover our journey of sport hosting over the pandemic, through to our transition back to full-house events below!

If you like what you're seeing, please don't hesitate to Get In Touch and we'd be more than happy to connect.
In July 2020, Edmonton was chosen as one of two hub cities for the 2020 NHL season, and the destination of the 2020 Stanley Cup Playoffs. For nearly three months, Rogers Place, the public plaza, and JW Marriott Edmonton Ice District were home to hundreds of NHL players, coaches, and staff. With a priority on health and safety, the NHL season was able to happen successfully and was broadcast to millions of people around the world.

Watch the video to see how our city came together to safely host the 2020 playoffs.

More Seasons of Safe Sport
Fall and winter 2021 opened the doors for Edmonton to experiment with events they never hosted before including HSBC World Rugby Sevens. For two days, Commonwealth Stadium hosted teams from across the globe in action-packed rugby sevens matchups. The party continued in the stands with incredible costumes and unforgettable memories. As one of only two global cities to host the Sevens Series, we were proud to welcome teams safely and put on an incredible show.

Summer 2021 also invited several successful and safe events, including the 2021 Canadian Elite Basketball League (CEBL) Championship Weekend, where the Edmonton Stingers won the second straight CEBL championships in a row, this time, on home court. There was also the 2021 World Triathlon Championship Finals that opened the gates to elite triathletes and enthusiast fans who cheered athletes on from the grandstands in Hawrelak Park.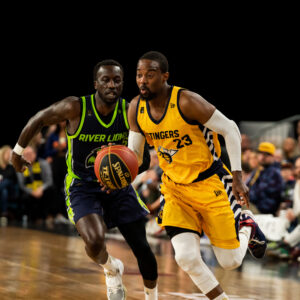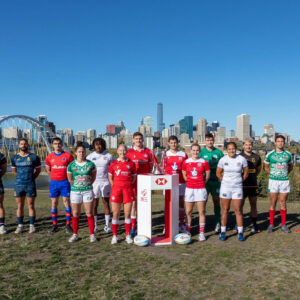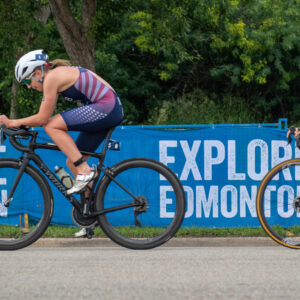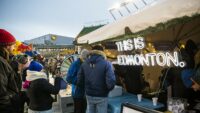 Our designated Event Development team worked alongside event rights holders and local organizing committees to ensure meaningful and memorable elements were added to events. This includes connecting organizers with local suppliers and volunteers, putting together itineraries for out-of-town athletes, artists, and families, and incorporating Indigenous elements into events. The Event Development team holds connections with many talented Indigenous members of the Treaty 6 community who have supported events in the past by drawing murals, crafting trophies, designing team jerseys, performing traditional dances, sharing land acknowledgments and more. Explore Edmonton strongly supports taking steps towards reconciliation by acknowledging and celebrating Indigenous culture and supporting Indigenous communities.

Two Steps Closer to Qatar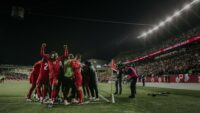 Come November 2021 the Canadian Men's National Soccer Team made their way to Edmonton to play two crucial 2022 FIFA World Cup™ Qualifying matches. On Friday, Nov. 12, Canada faced Costa Rica in a match that saw no snow and above-season-average temperatures of +11 degrees Celsius. The Canadian Men's team scrapped its way to a 1-0 win over Costa Rica in front of 48,806 supportive fans at Commonwealth Stadium. On Tuesday, Nov. 16, Edmonton was welcomed with its first winter snowstorm of the year. With a fresh 20 centimeters of snow, Commonwealth Stadium's pitch was cleared to make way for a match of a lifetime. At -9 degrees Celsius, 44,212 passionate fans gathered to cheer on their national team and witness a 2-1 victory over Mexico for the first time since 1976! Both triumphant wins placed the Canada Men's National Team at the top of the CONCACAF Qualifying table and proved that through rain, snow, sleet, or shine, Edmonton shows up to support their national sports teams.
Back to Full House Events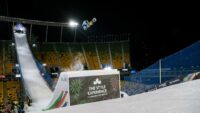 Moving into the spring and summer of 2022, things began to shift, borders started opening and travel became possible for many North Americans. Edmonton was ecstatic to host full-capacity sporting events again and further contribute to the sports tourism industry and the visitor economy. Major events such as the Volleyball Nationals, the inaugural PTO Canadian Open, and L'Etape by Tour de France arrived in Edmonton, allowing people from our city and from around the world to connect over sport once again.

Winter 2022 brought with it the pinnacle event of the season – The Style Experience FIS Snowboard Big Air World Cup. This marked the first-ever FIS World Cup Stadium Big Air event where the world's best snowboarders took the stage under the lights on a massive scaffolding jump. The stadium was turned on its head and snowboarders were in the air as we integrated Indigenous art, music, vendors, food, sports, and spectacles. In Edmonton, we go bigger, better, bolder (and often colder), for your event and cannot wait to host you!
Our World Class Venues Set the Stage
Edmonton is home to many world-class sporting venues that hold records for hosting some of our city's most unforgettable moments.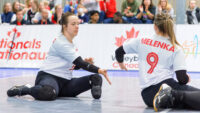 Edmonton Expo Centre
The Edmonton EXPO Centre is one of Explore Edmonton's signature venues, making event hosting logistics a breeze. The EXPO Centre is home to the Edmonton Stingers and has hosted sporting events of all types, including basketball, international volleyball, rodeos and boxing matches. The arena is equipped with 3,485 stadium seats, LED video wall and sound system, and a state-of-the-art LED sports lighting is being installed to ensure the highest quality experience for fans. In 2022 the EXPO Centre hosted Volleyball Nationals bringing in close to 800 teams with approximately 9,600 athletes and 14,000 spectators and the FIBA Basketball World Cup Qualifiers.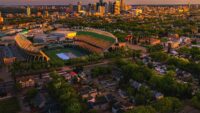 Commonwealth Stadium
Commonwealth Stadium is an excellent venue for hosting major sporting events. It is home to the Edmonton Elks with a seating capacity for 56,400 fans. This 42-acre complex has hosted many unforgettable events such as the 2015 FIA Women's World Cup, the 106th Grey Cup, the recent 2022 FIFA World Cup ™ Qatar 2022 Qualifying matches, and in December 2022, and Canada's first-ever Snowboard FIS World Cup Stadium Big Air event – The Style Experience.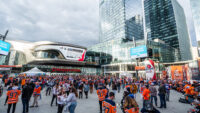 Rogers Place/The Ice District
Rogers Place is just one part of the new ICE District in the heart of downtown Edmonton. Home to Connor McDavid and the Edmonton Oilers, Rogers Place features state-of-the-art technology including the largest high-definition screen in the NHL. In the summer of 2022, Rogers Place hosted the 2022 IIHF World Junior Championships and was finally able to safely host players and fans in the stands while watching Canada win the gold medal game on home ice! In 2023, The ICE District Plaza will host the 2023 FIBA 3x3 World Tour & Women's Series and the 2023 Volleyball World Beatch Pro Tour will have a scheduled stop at the ICE District Fan Park