The Ultimate Battle of Alberta
Prepare for a momentous ice showdown decades in the making! On October 29, history will be made as the Edmonton Oilers and the Calgary Flames clash in the seventh NHL Heritage Classic at Edmonton's Commonwealth Stadium, transformed into a massive outdoor rink. Picture the crisp air, the roar of fans, and the enchantment of the great outdoors. This match marks the first outdoor game in the Battle of Alberta rivalry!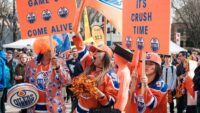 Join us at Fan Park in Edmonton's ICE District for an unforgettable Heritage Classic watch party! This epic celebration is a blast for fans of all ages, featuring an array of family-friendly games and attractions, live music, special appearances, and the chance to snap a photo with the legendary Stanley Cup!
Friday, October 27 from 3pm-9pm
Saturday, October 28 from 12pm-6pm
Legendary Local Restaurants
Win or lose, Edmonton's sense of community and love for a great time promise an unforgettable post-game celebration!
Other Ways to Fill Your Stay
Looking for other exciting activities to do while you're here in Edmonton? We have a long list to fill your stay! For more information, scope out our event calendar.