After nearly two decades, The JUNO Awards make their triumphant return to Alberta's capital for the 52nd annual celebration of Canada's top musicians, singers, songwriters, producers, and more on Monday, March 13!

Hosted for the second year in a row by global superstar Simu Liu, watch as the biggest names in music come together at Rogers Place for the presentation of coveted JUNO awards, dazzling performances, and special appearances from Canada's most notable personalities.

Globally renowned rock act and this year's Canadian Music Hall of Fame inductee Nickelback will wow audiences with a once-in-a-lifetime performance reflecting on their 20+ year career in music! Plus, don't miss incredible live performances from Canada's top artists including Calgary native and four-time JUNO nominee, Tate McRae with more artists to be announced soon.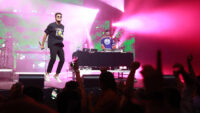 Got your tickets to The JUNO Awards Broadcast? Come to Edmonton for the weekend and round out your experience by checking out the following JUNO Week Events from March 9-13:
Other ways to fill your stay
Looking for other exciting activities to do while you're here in Edmonton for the JUNOS? We have a list as long as Mozart's sheet music to fill your stay with!