WHERE LEGENDS OF ALL EPIC PROPORTIONS ARE BORN
In Edmonton, the main event isn't just reserved for the men. Here, we shift the spotlight onto women's sports. Our city takes pride in nurturing world-class women athletes, supporting them from grassroots to global prominence. Edmonton boasts an impressive roster of extraordinary women athletes who were not only raised in our city but have also risen to global ranks.

OUR ROOTS IN WOMEN'S SPORTS RUN DEEP
HONORING THE LEGACY OF THE EDMONTON GRADS: PIONEERS OF WOMEN'S BASKETBALL

The Edmonton Grads (1915–40)
Step back in time to witness the greatness of the Edmonton Grads, an iconic women's championship basketball team, led by the legendary coach Percy Page. Throughout their illustrious 25-year journey, the Grads achieved an astonishing 95% victory rate, solidifying their status as true champions!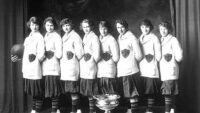 Dominating the Courts
The Grads were no ordinary team; they dominated both the national and world stages, often leaving their opponents in awe with lopsided scores. Their unparalleled success included a remarkable 17-year winning streak (1923 to 1940) of the Underwood International Trophy (USA–Canada) and an undefeated record in 24 matches held during the Olympic Summer Games of 1924, 1928, and 1936.

Immortalized in Sports History
In recognition of their extraordinary achievements, the Edmonton Grads were deservedly inducted into Canada's Sports Hall of Fame in 2017, forever enshrined as pioneers of women's basketball.
Paving the Way for the Future (2013 – Present)
The legacy of the Edmonton Grads continues to inspire generations. In 2013, City Council's visionary decision designated Edmonton as the home of the Canadian Women's Basketball Team. This marked a defining moment, signifying the city's unwavering commitment to grow the game and establish Edmonton as a hub of excellence in basketball, both nationally and globally.
"Edmonton has an incredibly rich tradition of women's basketball, and for our national team [...] to [be inspired] by the friendly ghosts of the Edmonton Grads [...] is the crowning touch." - Wayne Parrish, Canada Basketball President & CEO
Canada Women's National Basketball Team
Today, The University of Alberta's Saville Community Sports Centre serves as the training ground for the mighty Canada women's national basketball team. With pride, we celebrate Edmonton's very own Plouffe sisters - Katherine and Michelle – as they triumphed and clinched the silver medal in the 2022 FIBA 3x3 World Cup in Antwerp, Belgium and a rewarding first place win on home soil during the Edmonton stop of the 2023 FIBA 3x3 Women's Series.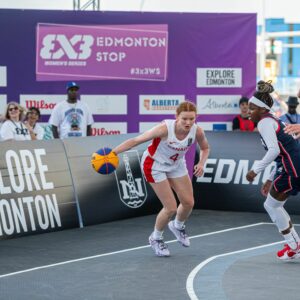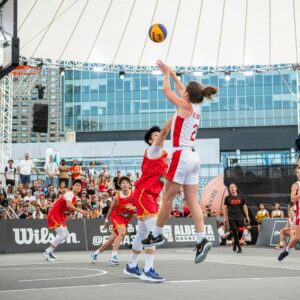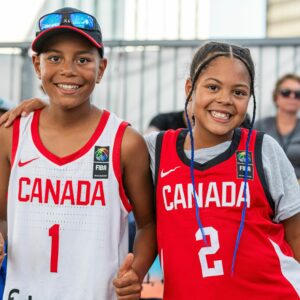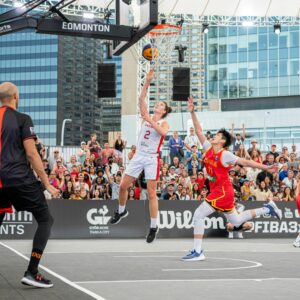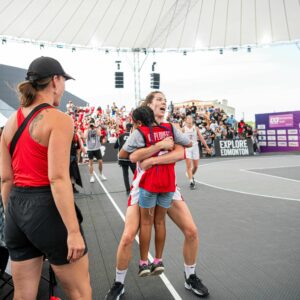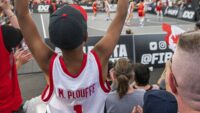 A Proud Host
Edmonton has proudly hosted the 2022 & 2023 FIBA 3x3 Women's Series, with both Katherine and Michelle Plouffe representing Canada amidst a roaring local fan base and looks forward to hosting FIBA 3x3 in 2024 & 2025. The city's passion for basketball knows no bounds, and our support for our athletes is unwavering!
The Unofficial Birthplace of Women's Soccer
Our Proud Accomplishments
Edmonton boasts a significant title in Canadian soccer history - the unofficial birthplace of women's soccer. This distinction is well-earned, backed by our remarkable achievements and undeniable merit.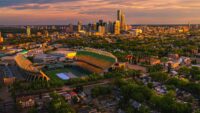 A Stadium That Shines
With a massive 56,302-person capacity, Edmonton's world-class facility, Commonwealth Stadium, helped to set an attendance record at the 2002 FIFA U-19 Women's World Championship, before once again breaking attendance records at the opening match of the 2015 FIFA Women's World Cup™️.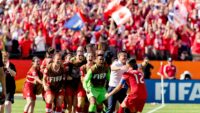 A Historic Host
The 2015 FIFA Women's World Cup™️️ marked the first time the tournament was hosted by Canada. Matches were played in six cities across Canada in five time zones. In an electrifying opening match, history was made at Commonwealth Stadium. Christine Sincliar's dramatic penalty kick in the second minute of second-half stoppage time secured a thrilling 1-0 victory for Canada over China, witnessed by a roaring sellout crowd. This momentous occasion further ignited Edmonton's love for soccer and reaffirmed our commitment to creating an equal playing field for all athletes.
A VOLLEYBALL HAVEN FOR EMPOWERED ATHLETES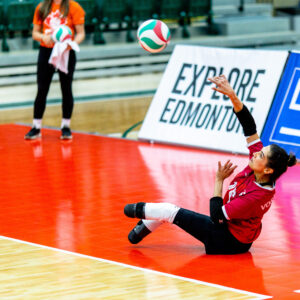 A CHAMPION FOR CANADA'S WOMEN'S
NATIONAL SITTING TEAM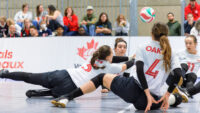 A Hub of Support
Since 2013, Edmonton has been a pillar of support for Volleyball Canada's Women's National Sitting team, nurturing their growth and fostering their success. As the centralized training ground for the team, our city has witnessed their journey from formation to flourishing on the global stage.
Dedicated Training at EVPC
The Women's Sitting National Team finds their home at the state-of-the-art Edmonton Volleyball Pickleball Centre (EVPC). Covering an impressive 49,000 sq ft, the centre is Edmonton's first-of-its-kind facility, offering 11 volleyball courts and 17 pickleball courts. It's here that Team Canada hones their skills on a dedicated sitting volleyball court, fine-tuning their game to reach new heights of excellence.
A Force to Reckon With
Canada's Women's sitting team has left an indelible mark on the world stage, currently holding the prestigious 3rd rank globally. Their last Paralympic appearance at the 2020 Tokyo Olympics showcased their unwavering determination and talent, leaving fans in awe of their achievements.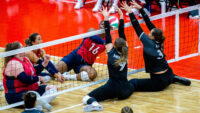 Edmonton Hosts Zonal Tournament
In May 2023, Edmonton proudly hosted a Zonal tournament that contributed towards Paralympic qualification. Our city's passion for sports and dedication to the team's success was evident as athletes from around the world gathered to compete on our home turf.
Chasing Olympic Glory
Currently, the team is hard at work in Edmonton, tirelessly training and journeying across the globe to secure their spot in the 2024 Paris Olympics. Edmonton stands steadfast in supporting these remarkable athletes as they chase their Olympic dreams.
EMBRACING THE GLOBAL SPOTLIGHT
Edmonton Hosts the 2023 FIVB Volleyball Beach Pro Tour Challenge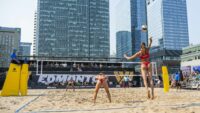 Beach takes Centre Stage
Edmonton's support for volleyball runs deeper as the city successfully wrapped up hosting the 2023 FIVB Volleyball World Beach Pro Tour Challenge in the centre of the city in Edmonton's ICE District! From July 21 – July 23, 2023, Edmonton's downtown transformed into a beach as volleyball athletes from around the world came to compete in the sand.
Canadian Women's Teams in Action
Two Canadian women's teams competed in the playoff round. Although both teams suffered defeats and were eliminated in the tournament, it served as a great training ground to warm up for the Elite 16 semi-finals in Montreal where Melissa Humana-Pardes and Brandle Wilkerson had their gold moment, finishing first and establishing themselves as one of the best women's beach volleyball teams in the world!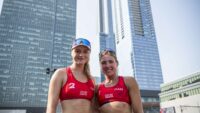 A Legacy of Excellence
Edmonton's resounding success in hosting the 2023 FIVB Volleyball World Beach Pro Tour Challenge solidifies its position as a destination for top-tier sporting events. With a deep-rooted love for volleyball and an unyielding support for athletes, Edmonton continues to pave the way for the growth and advancement of women's volleyball on the world stage.
As we look to the future, Edmonton is a breeding ground for a new generation of trailblazers. These rising stars are set to take the world stage, creating a legacy that will inspire generations of women to come. Watch as they dazzle and redefine what's possible in the realm of women's sports.
Want to learn more?
Contact our team to learn more about how you can get involved in supporting Women's Sports in Edmonton. Email: womenssports@explroeedmonton.com and we'll happily explore options of how we can help bring the global stage to the game you're looking to amplify!