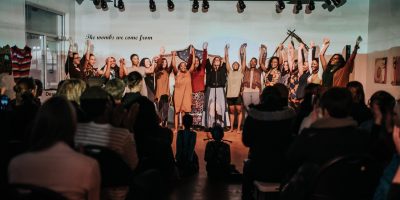 SkirtsAfire Festival
Experience herstory in the arts.
February 27 – March 8, 2020
Time

Street Address

Various Locations, Edmonton, Alberta
SkirtsAfire is a theatre and multidisciplinary arts festival that's diverse and daring. In conjunction with International Women's Day, the festival runs from February 27 - March 8 at various venues in the heart of Alberta Avenue. Whether you're enjoying popcorn, wine and laughter with live performances at their Cabaret Theatre; practicing sun salutations to live cello music amidst the gallery art; listening to singer-songwriters with a latte at "The Carrot", craft beer at Otto Food and Drink or great food at The Nook; enjoying spoken word at the Nina Haggerty Centre for the Arts; you're sure to be stirred and inspired at SkirtsAfire Festival.