Some call it a winter wonderland, others call it a "true Canadian experience", and you'll likely have your own name for it after partaking in this snowy 10 day festival. You'll see winter in Edmonton, Alberta at its finest as you explore the Silver Skate Festival and Ice Castles. Whether you're carving a snow sculpture or riding in a horse drawn carriage, one thing is for sure, there's no business like snow business.

Silver Skate is the longest running winter festival in Edmonton, now 30 years old. This festival started off as just a small event and now it's a large-scale winter extravaganza with visitors flocking from around the world!

You'll feel like you've stepped through the wardrobe and into Narnia when you visit Silver Skate Festival in Hawrelak Park from February 7-17, 2020.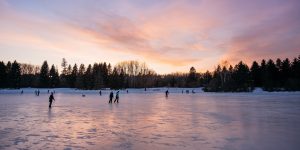 HEARD OF THESE WINTER SPORTS?
Have you ever played hockey with a sled and two sticks? Or how about curling with coffee-cans for curling rocks? No? Not a problem. All are welcome to battle it out in a game of broomball, sledge hockey or jam-can curling. These aren't your conventional winter sports.


Get ready to get inspired when you watch Frisbee Rob in action. This master of the flying disk is a Guinness World Record holder for his frisbee throwing expertise. Did we mention that he does it all on skates? Talk about a true legend.
ON YOUR MARKS, GET SET... SNOW!
You're behind the starting line and your adrenaline is pumping. You look to your competitor, look to the snowy trails ahead, the starting bell rings and you're off... let the races begin! Silver Skate has races of every kind; snowshoeing, skating, sprinting and even a combination of the three for the Edmonton Winter Triathlon. Whether you prefer to fly solo or work as a team, there's a race for you. Perhaps you need a bit of an extra push.... bring out the zombies! Join in on the Dead Cold Run and race for your life from the zombie apocalypse! Seriously.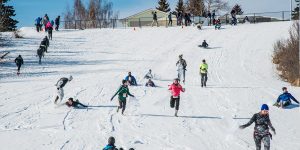 LIVIN' AS A CANADIAN PIONEER
You'll step into the shoes of a Canadian pioneer and get a taste of Edmonton's history at the Heritage Village. The Indigenous emcampment is where Cree people relied on their natural surroundings for survival, and you'll learn about their incredible history while cooking bannock over an open fire.

Then, watch blacksmiths forge the primary tools of the trade: a punch, hammer and tongs. These techniques are the same as those used to produce Damascus steel, artwork, wrought iron, and are still used today to recreate historic hardware.



Watch artists in their prime as they transform massive snow blocks into detailed masterpieces. Browse through the garden of artworks and vote for your favourite beautiful creations. If you're feeling inspired and creative, carve your own snow sculpture in the family fun zone.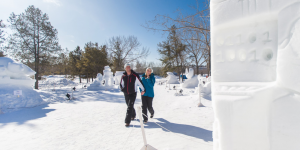 Step into the ultimate winter wonderland when you visit the giant Ice Castles. This enchanting acre-sized castle is crafted by hand using only icicles and water. Venture through the stunning, Narnia-like display and snap a selfie at stunning photo spots including the throne room, in front of the fountain and throughout the winding ice maze. Don't miss the opportunity to see this winter masterpiece.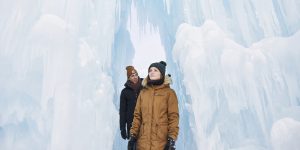 It's when the sun goes down that a story comes to life and the interesting characters come out to play. You'll be delighted and surprised by interactive theatre as you mosey along the mystical trails of Silver Skate. Gather your nerves, grab your lantern and prepare yourself for a magical night.

It's time for the grand finale and there is something in store for you that will finish your night off with a bang! While you've been keeping it cool all day, a team of fire artists have been busy heating it up building a special kind of sculpture for the evening. Watch as they set the sculpture on fire and fill the sky with an explosion of red and orange flames. It's definitely a sight you won't soon forget!