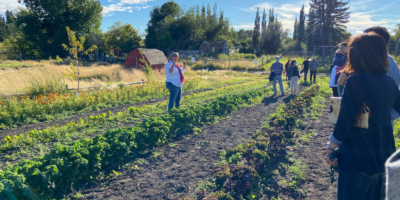 Local Food Experiences at Prairie Gardens
The food, plain and simple. The experience, far from ordinary.
A true farm-to-table (or farm-to-picnic-blanket) experience is just a short drive away! Prairie Gardens is a 35-acre fully operational farm offering a variety of educational, fun, and above all delicious culinary experiences for you and your cohort to enjoy. Pick a pumpkin for Halloween, plan the perfect family farm picnic, or get lost in the corn and sunflower mazes. Pro tip: check out the weekly farm market every Saturday and Sunday for the freshest veggies and produce. No matter how you explore, you'll leave with a deeper appreciation for local food and where it comes from.


Remember to book your experience in advance and continue following the health & safety guidelines put in place to keep everyone safe!

Photo Credit: Diana Go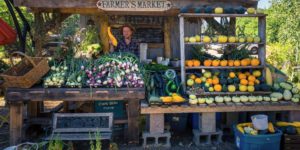 The perfect picnic does't exis - oh wait, it does! Prairie Gardens' family farm picnic allows you to enjoy your own private area of the farm. This unique experience is designed with lunch for two in mind, but the farm welcomes up to 15 guests per reservation. You'll enjoy fresh-baked farm scones, access to the corn and sunflower mazes, and much more! You can even customize your experience with add-ons like Little Bear Gelato or a farm animal discovery tour.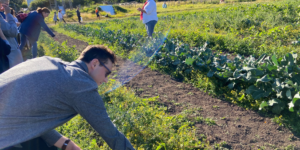 You've got to pick a pumpkin or two
Halloween is right around the corner, so bring your family for the farm for a good ol' fashioned pumpkin u-pick! This is the perfect way to get outdoors, enjoy the wide open spaces on the farm, and learn a bit about how pumpkins grow. Tickets are required for each person, but children 2 and under are free. Your ticket includes a behind-the-scenes wagon tour around the farm and you'll also get access to the corn and sunflower mazes.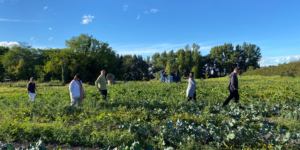 Long (or short) Table Dinners
The farm dinners at Prairie Gardens are truly a special experience. You'll watch as decorated local chefs take simple, farm-grown ingredients and create something far from the ordinary. The evening includes a tour of the farm before settling down for dinner in the lovely greenhouse (or outside if weather permits).
Your dinner will feature freshly picked produce from the fields and greenhouses at Prairie Gardens, and all of the proteins are sustainably sourced from local farms, producers, and suppliers. Live entertainment will add to the magic of the night!