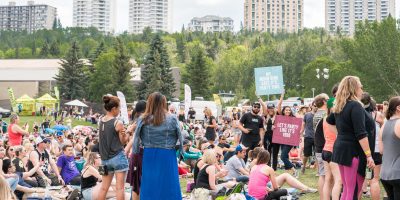 Our Visitor Services team is here to help visitors make the most of their time in Edmonton. We engage with visitors, wherever they are, to provide visitor information about our destination and encourage them to explore the city. We do so in numerous ways:

The Explore Edmonton Street Team interacts with visitors at events and festivals around the city and activates on-site, bringing an enhanced experience through various programming (such as roasting marshmallows at our Explore Edmonton fire pit, hosting a live local musician or providing free popsicles and cotton candy), while engaging with attendees, welcoming them to the event and providing recommendations on things to do.

The YEG Expert Program: we provide destination training to frontline staff in the hospitality industry to help them share their Edmonton favourites with visitors.

Our team's success is due in part to partnerships within the community, including the City of Edmonton, the Edmonton Arts Council and the Ministry of Culture and Tourism.