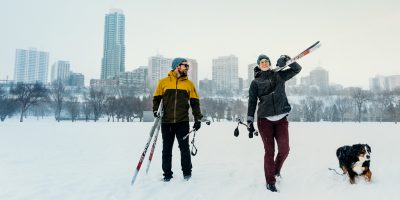 Selling winter in Edmonton
It's no secret that winter in Edmonton is cold, but Edmontonians know how to celebrate the season in all its frosty glory. As the trusted experts and resources for the sales and marketing of our city, we know how important it is to bring awareness to Edmonton as a winter city that embraces the season. Whether you're bidding on a conference, are an entrepreneur eager to tell your story, or a business owner advertising your attraction, below are a few resources to help you sell winter in Edmonton.
Edmonton is also known as the festival city of Canada where the calendar of events is well-filled throughout the year.
Just thirty-five minutes east of Edmonton lies a wild oasis. The perfect place to day-hike, ice skate, cross country ski, snowshoe, and spot some bison. Elk Island National Park is also a designated dark sky preserve and the cornerstone of Canada's bison conservation.
Experience blends of Métis culture and the great outdoors at Métis Crossing, the first major Métis cultural interpretive centre in Alberta. The 12-acre site located north east of Edmonton, is designed to engage and excite visitors. Comprised of river lot titles from the original Métis settlers to this region in the late 1800's, their programming encourages active participation of visitors in activities that promote appreciation of the Métis people, customs, and celebrations. Take part in an immersive cultural experience that transports you through time and showcases the history of the Métis people and the lives of the fur traders. Learn about the families that trapped, hunted, traded and celebrated life along the North Saskatchewan River.
Read More About Winter In Edmonton

With shimmering glaciers, abundant wildlife, crystal clear lakes, thundering waterfalls, deep canyons, and evergreen forest – all surrounded by towering mountains – Jasper National Park welcomes those prepared to venture beyond. Plus, the town of Jasper National Park was recently dubbed North America's "Best Ski Town" in USA Today's Reader's Choice survey.

Winter nights come alive at Jasper Dark Sky Preserve. Alberta is home to some of the world's largest dark sky preserves, Wood Buffalo and Jasper national parks. That means there's no artificial light around to obscure the extraterrestrial view, and makes it one of the best places to stargaze in the Canadian Rockies.
Have more questions about winter in Edmonton? Contact us today!