Explore Edmonton's presence is global. We operate across Canada and the world to put our city on the map. We are aligned with Destination Canada and Travel Alberta, who lead marketing and sales activity in our primary, supportive and emerging markets.

Our Travel Media, Travel Trade, Consumer Marketing and Meetings & Conventions teams ensure a year-round presence globally.

Here is what we are working on.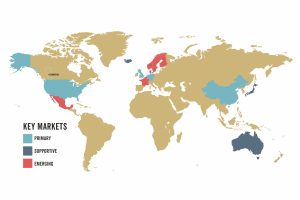 Travel Media
GoMedia Marketplace

Travel Trade
Rendez-vous Canada
Canada's West Marketplace
Jonview Sales Training
Anderson Vacation Sales Training
Travel Media
Travel Media Association of Canada

Marketing
Regional Campaigns

Meetings & Conventions
Tête-à-Tête
Destination Direct
Canadian Society of Association Executives
The Event
C2 Conference
Business Events Canada
Canadian Association of Exposition Management
Canadian Society of Professional Event Planners
IncentiveWorks
Hotel Management International
Canadian Society of Association Executives
Professional Convention Management Association
Ottawa, Winnipeg, Toronto sales missions
GO West
Meeting and Travel Arrangers Show
Inventure$
Travel Media
World Winter Sport
Travel Media Visits

Travel Trade
Asia Showcase
World Winter Sport Expo
Familiarization Tours
Canadian Inbound Tourism Association – Asia Pacific
Sales Missions
Travel Media
Destination Canada Media Events
International Tourism Market
KLM Royal Dutch Airlines MEGA Campaign
Travel Media Visits

Travel Trade
Alberta Specialist Training
International Tourism Market
Familiarization Tours
KLM Royal Dutch Airlines MEGA Campaign

Marketing
KLM Royal Dutch Airlines MEGA Campaign
Vakantiebeurs
Travel Media
Storymakers
KLM Winter Event
KLM Royal Dutch Airlines MEGA Campaign
Travel Media Visits

Travel Trade
KLM Winter Event
KLM Royal Dutch Airlines MEGA Campaign
USA-Canada Experience
Familiarization Tours

Marketing
KLM Royal Dutch Airlines MEGA Campaign
Travel Media
International Media Marketplace
World Travel Market
Travel Media Visits

Travel Trade
World Travel Market
Familiarization Tours
Travel Alberta Sales Mission

Meetings & Conventions
London Tech Week
Travel Media
International Media Marketplace
Travel Media Visits
AdventureELEVATE

Travel Trade
American Bus Association Marketplace
United States Tour Operators Association
Sales Missions
Familiarization Tours

Marketing
Direct air access campaigns

Meetings & Conventions
Religious Conference Management Association
Meeting Professionals International
World Exhibition for Incentive Travel
American Society of Association Executives
Professional Convention Management Association
Destination International Showcase
Experient EnVision
Cvent CONNECT
Connect Marketplace
Connect Medical
Business Events Canada
Sales Missions