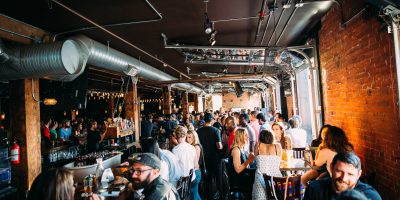 Quench your thirst with a local craft beer in one of Edmonton's historical warehouses; learn about the Mercer Tavern's earlier lives and its storied role in Edmonton history.
Think of it as a fun history lesson while you're drinking beer and savouring delicious food. With chandeliers and exposed brick, the Mercer Tavern is one of Edmonton's oldest buildings in the Warehouse District downtown. Ask staff the story about how the building was built back in 1911 by John B. Mercer and picture its earlier life as a warehouse to store liquor, cigars and wine. Marvel at how, 101 years later, the building has been revitalized and transformed back to its original state. Check out the larger-than-life newspapers on the wall and read about the 1922 fire that almost destroyed the place for good.
Find out how earlier tenants included a wholesale fruit dealer, the Stevens Paint Company and the Calgary Brewing Company. Sample local craft beer brewed in the backyard. Come on Saturday for a mimosa at brunch. Find out why this historic and approachable space is so popular with the locals for gathering and enjoying good times with friends on a winter's evening.