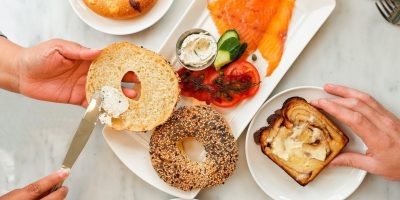 June's Delicatessen
There's a new deli on the block.
Contact Information
Street Address

6427 112 Ave NW, Edmonton, Alberta
Edmonton's historic Gibbard Block is fast becoming the city's newest culinary hot spot. At June's Delicatessen, you'll find the most incredible bagels, pastrami and babka. Lunch items like Matza Ball Soup will warm the cockles of your heart, while the Reuben Sandwich's tangy kick will leave you with a spring in your step. Swing by for a dozen bagels to-go, or head over for brunch and the most spectacular egg's benny (draped in a cloak of decadent hollandaise, of course). June's is also fully licensed, so you can enjoy local bevvies like the Charleston Spiced Rye Saison, crafted right here in Edmonton.