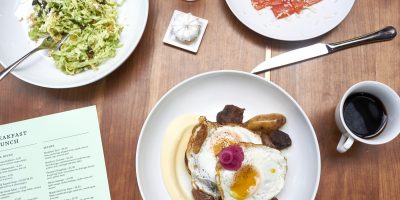 When you walk through the large glass doors to Cafe Linnea, the sunlight streaming through the peaked skylight illuminates the fresh green space below. Cherry wood shelves wrap the length of the space above the bar, with small potted green plants poking through tucked amongst bartending books, bottles of wine and spirits, and the occasional traditional Swedish decoration.
Cafe Linnea is a truly Edmonton experience. The 4 owners were all born and raised in Edmonton, and having travelled the world for work and pleasure, all made their way back to call Edmonton home. As much as possible, they have tried to include local craftsmen and artists in the production of Cafe Linnea, from the tables and bar, to the cherry wood shelves, to the handcrafted cider mugs. The food is 100% inspired by the local farmers and the seasonal ingredients they create. If it can be sourced locally, it is, and the motto of the kitchen is to let the ingredients shine to showcase what our land can produce.
Cozy into your seat, receive your latte with a complimentary dark chocolate meringue and settle in for what will be a satisfying and heartwarming meal.