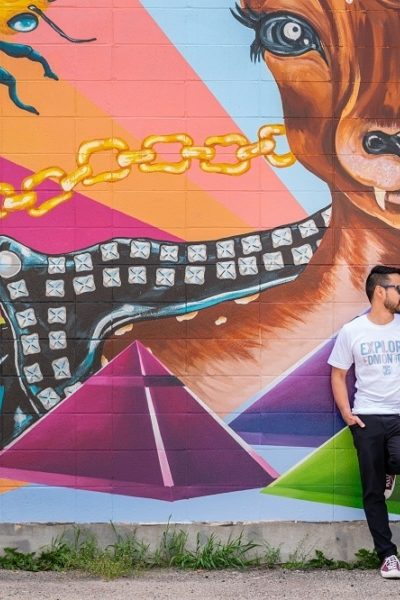 Explore Edmonton & Print Machine
Supporting local never looked so good!
Look fresh and help support Edmonton's local businesses... it's a real win-win situation! Since the end of March, Edmonton Print Machine's Here for Good campaign has invited customers to purchase t-shirts with their favourite local business' logo on it. The best part? The proceeds go right back into the pockets of that local company.

We've partnered with Print Machine to create limited-edition Explore Edmonton t-shirts for purchase. The proceeds from these shirts will be divided evenly and distributed to participating small businesses who are recovering from the impact of the COVID-19 pandemic.
Support Local and Look Good Doing it
If there is one thing that is certain about times like these, it's the fact that we are in this together. So far, the Here for Good campaign has raised over $40,000.00 for Edmonton's small businesses. We are thrilled to join forces with Print Machine and add two unique Explore Edmonton designs to the collection!

Let's show the city's independent makers & doers some love during this difficult time. Supporting local never looked so good!


Calling All Small Business Owners
This campaign features Explore Edmonton and Here for Good t-shirts, as well as shirts branded with each participating business' logo.
Are you a YEG small business looking to participate in this unique campaign? Well, it's as easy as signing up! Once you're signed up, Print Machine will place your company's logo on a t-shirt, and the proceeds of your shirt will go directly back into your business.
On top of that, Print Machine will also pool proceeds from the sales of the Explore Edmonton and Here for Good campaign shirts and split them amongst all the small businesses that have signed up.
Check out the many participating business' t-shirts here!


About Edmonton Print Machine
Edmonton Print Machine was founded on the idea that a print shop should be helpful, honest, and willing to go the extra mile to ensure clients receive products they're proud of. They have grown into a business with two locations, a hard-working staff, thousands of satisfied customers in the arts, business, education, and government sectors, with their focus always remaining on service, quality and workmanship.
Print Machine offers several printing services, including quick printing of no minimum order requirements, apparel and promotional products, as well as longer runs on any item you can think of! Print Machine stands behind its motto: You think it, we ink it.