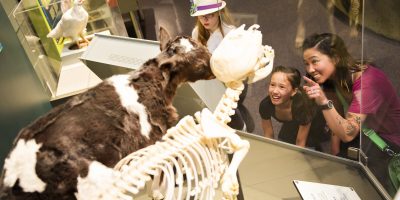 The Science of Ripley's Believe it or Not!
Explore a remarkable collection of intriguing objects and astonishing artifacts from Ripley's Believe It or Not! including a calf with two faces, a megalodon shark jaw and a portrait of Einstein made of toast. What's even more amazing than Robert Ripley's legendary compendium of oddities, anomalies, and fantastic feats? The science that underlies them!
This highly interactive exhibit is an adventure through the remarkable realms of scientific discoveries and real artifacts. Through experiments, challenges, touchable specimens, computer interactives and multimedia experiences, you will delve into these astounding wonders.