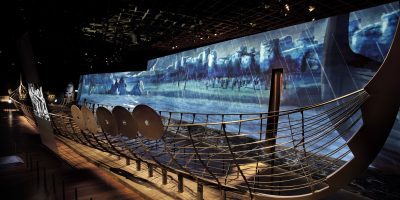 The Intricacies of Viking Wire Weaving
Try your hand at Viking wire weaving with local experts Greg McClennon and Sandi Lawson. Viking wire weaving, also known as Trichinopoly, is a technique used during the Viking era to make jewelry, decoration on tunic sleeves, and other practical uses in everyday Viking life.
Then, check out the incredible Vikings: Beyond the Legend exhibit. This is the largest touring exhibition of Viking artifacts in the world. It's an immersive experience like no other with 650 artifacts that range from exotic jewels to three Viking warships, including the 37-metre Roskilde 6, the longest Viking warship ever found featuring original 1,000-year-old wooden planks.

This Viking Age demonstration is included with your general admission!