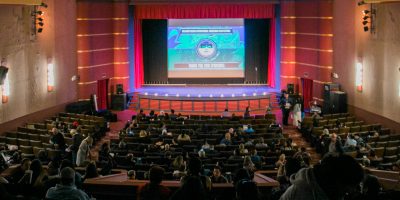 The Dreamspeakers Festival Society presents: Celebrating Indigenous Film, Arts & Culture Together! This year marks the 10th anniversary of the Rubaboo Arts Festival and the 25th anniversary of the Dreamspeakers Film Festival. Presented in tandem, this celebration features extraordinary artists and their work, across multiple disciplines.
View a unique Dreamspeakers selection of local, national and international Indigenous films, including the award-winning "Falls Around Her" starring Tantoo Cardinal and directed by Darlene Naponse, and "Three Feathers" based on the graphic novel by Richard Van Camp. Indigenous youth interested in film can participate in Youth Day and a free Talent Search with L.A. casting director Rene Haynes!
Rubaboo features Kaha:wi Dance Theatre Santee Smith's "Blood, Water, Earth", Making Treaty 7, an inspiring meme creation workshop with Taran J. Kootenhayo, Josh Languedoc's new play "Rocko and Nakota", a classic Rubaboo Cabaret with hoop dancing by Arik Pipestem, a Fusion performance at the Iniw River Lot 11 art park, a literary book launch with Anna Marie Sewell, an exploration of Body Sovereignty with burlesque artists Virago Nation and Iskotew Iskwewak, an empowering "Tattoo Medicine for Land Defence Gathering & Action", a stunning display of Indigenous visual art at Galerie Cite, and a special Anniversary Gala to celebrate with films, artists and the Edmonton Symphony Youth Orchestra.