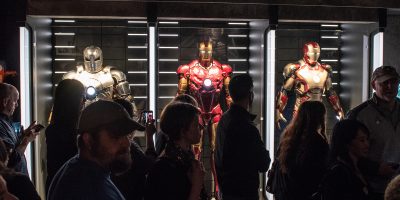 Marvel: Universe of Super Heroes
Step into the world of your favourite comic book characters.
Marvel: Universe of Super Heroes makes its Canadian premiere on October 19th when it opens at TELUS World of Science – Edmonton.
This highly-anticipated feature exhibition debuts during Marvel's 80th anniversary year and the 10thanniversary of the Marvel Cinematic Universe. All your Marvelfantasies come to life in this exhibition, as it chronicles the story of Marvel and its influence on visual culture, while also uncovering the narratives of beloved characters such as Captain Marvel, Spider-Man, Black Panther, and Doctor Strange.
Avid collectors and casual fans alike will be awe-struck, as they explore more than 300 artifacts, costumes, props and interactive elements designed to bring the Marvel Universe to life, for a completely immersive experience.
Travel through the mysterious mirror dimension of Doctor Strange, digitally transform yourself into Ironman and pose for selfies alongside life-sized representations of Black Panther, Spider-Man and other iconic Marvel Characters.
Get your tickets to Marvel: Universe of Super Heroes today and discover the engaging set pieces and riveting soundscapes of all your favourite Marvel moments.
© 2019 MARVEL
An Exhibition by SC Exhibitions