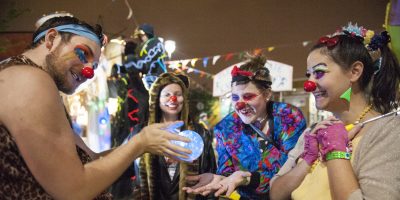 Kaleido 2020 on Tour: Here Comes the Sun
A collision of music, theatre, dance, literary arts, film and visual arts.
September 11 – September 13, 2020
Time

Street Address

Alberta Avenue District (NAIT–Northlands, 75 St–106 St / 111 Ave–Yellowhead), Edmonton, Alberta
This year marks the 15th anniversary of Kaleido and the festival is celebrating with surprises all summer long. Wander the Alberta Avenue District to find art installations, chalk art, The Front Porch Series, and mystery buskers.
September 11–13 is the weekend of the Kaleido 2020 on Tour showcase, featuring a variety of music, dance, and acrobatics. Travelling on flatbed trucks, these musicians and street performers will show up at a location where everyone can safely watch and enjoy, perform for a limited time, and drive away. Because spontaneity is the key to Kaleido 2020 on Tour, everyone is encouraged to follow Kaleido Festival on social media for updates!