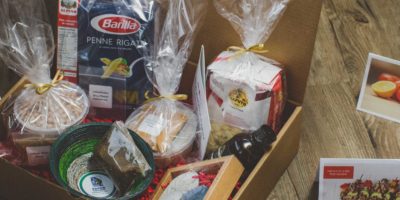 The Holiday Cultural Box Event
Join EdmontonEats in welcoming the flavours of the world to your own kitchen!
November 16 – December 20, 2020
Time
Celebrate the holiday season with EdmontonEats and cooks from all around the world! Satisfy your craving for delicious flavours as well as the craving for connection that we have all been experiencing lately. EdmontonEats is pleased to announce The Holiday Cultural Box Event — the third in a series of events that bring together newcomer home cooks and Edmontonians with a taste for culture and adventure. The Holiday Cultural Boxes will feature a selection of thoughtfully chosen recipes, spice blends and ingredients from Libya, Syria and Bangladesh. The Cultural Hosts who put together the boxes are thrilled to share their family recipes as a gift of hospitality. No need to travel to enjoy international tastes and aromas, you can savour the flavours of the world from the comfort of your own kitchen!

EdmontonEats works with local host families and culinary experts to create unique cultural dining experiences. They celebrate food, culture and community while providing economic opportunities for newcomers. Along with the delight you will experience when you open a Holiday Cultural Box, you can feel good knowing that the revenue from the sale of your box will go directly to the Cultural Hosts who put them together. How great is that?

There will be three Holiday Cultural Boxes to choose from:
The Recipe Kit Box $55.00
Special ingredients, spice blends and recipes put together by EdmontonEats' Cultural Hosts.

The Celebration Box $85.00
Special creations from Cultural Hosts as well as artisan gifts and unique food products from local partners.

The Sweet Treats Box $20.00
Freshly baked cookies by NAIT's 1st year Baking and Pastry Arts students based on their cultural backgrounds.

Join EdmontonEats in celebrating food, culture and community while providing economic opportunities for Edmonton's immigrant and refugee communities. Order your Holiday Cultural Box today!