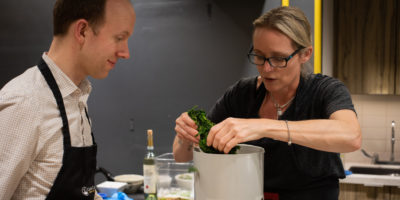 Get Cooking: Red Thai Curry
Learn to make a delicious chicken curry from scratch!
October 22, 2020
Time

Street Address

MacEwan University Campus - 11050 104 Avenue NW, Edmonton, Alberta
Join Get Cooking for this in-person class, and learn how to make your own home-made red thai curry. You'll start your night with a quick demonstration of how to make thai shrimp cakes, which you'll enjoy as an appetizer with a glass of wine. Then you'll get chopping up the aromatics for a red curry paste, with some knife skills built in, and use a mortar & pestle to finish your own paste to take home. Get Cooking's Kathryn and Elyse will show you how to turn your paste into a Chicken Curry that will be served together with steamed rice, and another glass of wine.

Tickets are sold in pairs so that you and a member of your cohort can share a single workstation to cook and dine together!