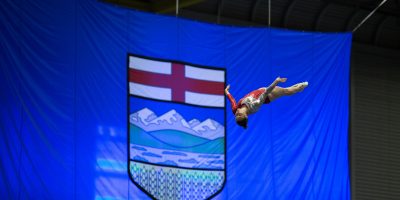 2022 Canadian Gymnestrada
Can you stick it? Yes, you can!
June 30 – July 5, 2022
Time

Street Address

Throughout Edmonton Gyms, Edmonton, Alberta
The Canadian Gymnaestrada celebrates movement and physical activity in a non-competitive environment. Gymnaestrada enables active participation for everyone, regardless of age, gender, or ability.

The Canadian Gymnaestrada (CG) is a nationwide Gymnastics for All (GfA) event hosted by Gymnastics Canada (GymCan) every 4 years. The event provides a national platform for groups of 10 or more gymnasts from across the country to come together and share their passion and love for gymnastics. By featuring performances in both indoor and outdoor venues, the event format not only draws local spectators in but also brings the excitement of the event to the local community.

The theme for 2022 is "Connecting Through Movement". Visit the Canadian Gynestrada website below for schedule updates and exact competition locations so you can make it out to witness the athleticism and drive of these Canadian gymnasts!