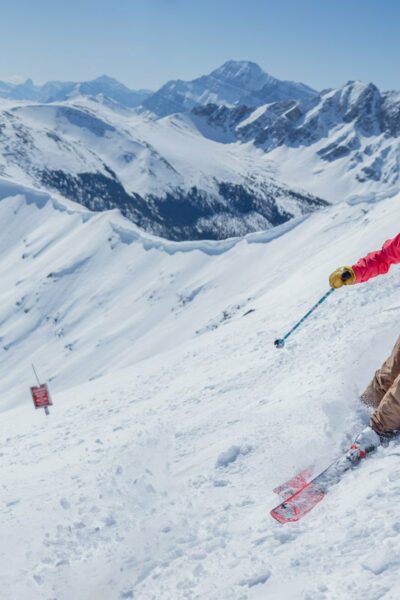 Edmonton & Jasper National Park
Experience the best of both worlds.
There are two sides to every adventure
Discover the journey less travelled when you embark on an adventure in Canada's North. It all begins in Edmonton – the capital of Alberta and the gateway to the Rockies. From Edmonton, adventure to Jasper National Park where you'll find towering mountains, abundant wildlife and otherworldly canyons. It's the kind of experience you'll remember for a lifetime.
BOOK YOUR TRIP TO EDMONTON AND JASPER TODAY.

Short flight. Wide open spaces. Adventuring in Edmonton & Jasper is easier than ever when you fly direct and touch down at the Edmonton International Airport:
Find the perfect place to lay your head after a long day of exploring with Edmonton's Best Hotels. Then book your stay at a cozy cabin in Jasper National Park.
Start by Exploring Edmonton
Throw on some warm layers, and don't forget your mittens. Yes, winter in Edmonton is chilly, but it most certainly isn't boring. We're a craft beer, vintage store, secret-underground-bar kind of city that's known for our legendary festivals. Here, you'll find bison in your backyard and nightlife at your doorstep.

We make Old Man Winter proud with domed winter patios in the heart of the river valley, city-wide snowball fights, deep freezer races, immersive Indigenous experiences, and spectacular views of the Northern Lights. And that's just the beginning.

Explore Edmonton. Discover Extraordinary.
Connecting Edmonton & Jasper
From Edmonton, it's a scenic and straight four-hour drive along the historic Yellowhead Highway to Jasper National Park. Don't feel like being behind the wheel? SunDog Tours offers a shuttle that includes many stops at downtown hotels. For current road conditions, review the AMA Road Reports and/or Parks Canada Road Condition Report.


Venture beyond in Jasper, Canada
Venture beyond to Jasper for the ultimate adventure. Located in the biggest national park in the Canadian Rockies, this authentic mountain town wins hearts with its panoramic views, friendly locals, impressive trail networks, and the largest accessible dark sky preserve in the world. Fall in love with Jasper's welcoming small-town charm and unique spirit.
Shop, stay and play at YEG
Edmonton International Airport (YEG) is more than an airport, it's a destination to shop, stay and play! Add a day at the beginning or end of your stay to enjoy the best shopping and activities.