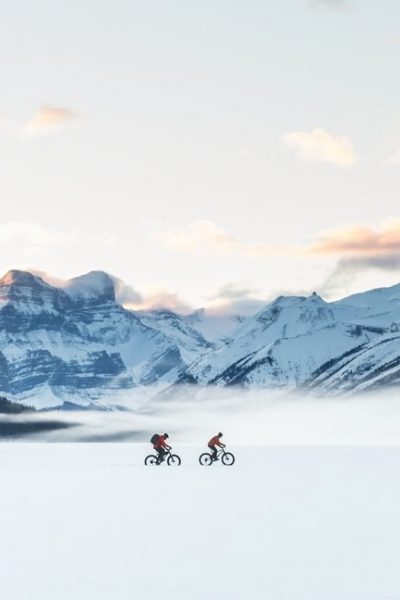 Edmonton & Jasper National Park
Experience the best of both worlds in Canada's north.
There are two sides to every adventure
Discover the journey less travelled when you embark on an adventure in Canada's North. It all begins in Edmonton – the capital of Alberta and the gateway to the Rockies. Dine at the city's world-class restaurants, shop at the legendary West Edmonton Mall, then hang out with a majestic herd of free-roaming plains bison, all in the same day.


From Edmonton, the trip to Jasper National Park is as magical as the destination; open landscapes, abundant wildlife and infinite prairie skies line the historic Yellowhead Highway as you venture from city to summit. An authentic mountain experience awaits with Jasper's snow-capped peaks, world-class skiing, and shimmering glaciers. At 11,000 square kilometers, Jasper is the largest National Park in the Canadian Rockies and only 3 ½ hours away from Edmonton. It's the kind of experience that you'll remember for a lifetime.

With a strong U.S. dollar, now is the best time to travel north and experience unforgettable.

Direct Flight. Wide open spaces.

Discovering vast and boundless vistas in Edmonton & Jasper is easier than ever when you fly direct with Swoop and touch down at the Edmonton International Airport. Book your trip now and find cheap flights to Edmonton from San Diego! Why not make it a vacation with Swoop Getaways? Save big on your hotel when you combine it together with a Swoop flight to get the best deal on your personalized package.

Start by Exploring Edmonton
Throw on some warm layers, and don't forget your mittens. Yes, winter in Edmonton is chilly, but it most certainly isn't boring. We make Old Man Winter proud with domed winter patios in the heart of the river valley, city-wide snowball fights, deep freezer races, and our spectacular view of the Northern Lights. Discover the city's world-renowned culinary scene after a day spent at one of our legendary winter festivals. And that's just the beginning.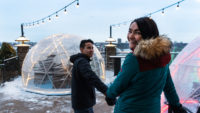 Tempt your Tastebuds
If you like food, we like you. Edmonton's culinary scene is turning heads internationally— you'll find everything from geodesic winter patios and craft breweries, to farm-to-table experiences and legendary bakeries. Wear your stretchy pants and get ready for flavors that span far beyond the Canadian border.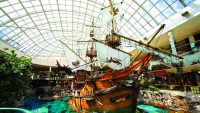 Luxury Local Shopping
Shop big-name retailers and local boutiques in Edmonton – not to mention North America's largest shopping and entertainment centre. West Edmonton Mall is part adventure park, part entertainment complex, shopping, and dining destination. This place is as big spirited as all of Alberta. If you're looking for local designer finds, stroll along Whyte Avenue, 124 Street, or 4th St. Promenade for the best independent boutiques in the city. Shopping is more affordable as there is no provincial sales tax in the Province of Alberta.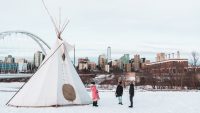 Explore Indigenous Edmonton
Amiskwacîwâskahikan, also known as Edmonton, is located on Treaty 6 Territory, home to many nations including the Cree, Saulteaux, Blackfoot, Sioux and Métis People. Immerse yourself in the culture at Métis Crossing, take an Indigenous-led tour, or taste the inventive meals created by trailblazing Indigenous chefs.


Connecting Edmonton & Jasper
From Edmonton, it's a scenic and straight four-hour drive along the historic Yellowhead Highway to Jasper National Park. Don't feel like being behind the wheel? SunDog Tours offers a shuttle that includes many stops at downtown hotels. For current road conditions, review the AMA Road Reports and/or Parks Canada Road Condition Report.


Venture beyond in Jasper, Canada
Venture beyond to Jasper National Park for the ultimate Rocky Mountain adventure. This mountain town's backyard has wildlife, frozen waterfalls, sparkling canyons, glacier-fed lakes and the second largest dark sky preserve in the world. Jasper's welcoming small-town charm will make you feel like a local.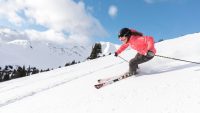 Hit the slopes
When it's not charming people with its stunning views, this beloved ski spot (known locally as 'the hill') is winning accolades far and wide. It was just ranked by Home-To-Go as the best, most affordable ski resort in North America and helped establish Jasper as the best ski town on the continent.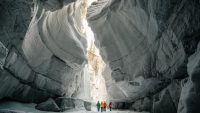 Walk Maligne canyon
Drive 10 minutes north of Jasper for an ice-walk adventure you won't soon forget. Named for its haunting atmosphere, Maligne Canyon is the deepest, easily accessible canyon in the Rockies. The hardiest souls climb its 50-metre-tall ice waterfalls, but anyone can strap on cleats to explore this otherworldly frozen wonderland.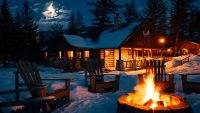 Winter warmth
Winter in Jasper is nothing short of magical. Our mountain town is at its most authentic, the landscape is sparkling, and with so many amazing and unique activities – not to mention oodles of deals that your wallet will love – it's clear why the chilliest season often delivers the warmest memories.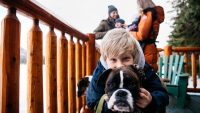 Cozy cabins
Quintessentially Canadian and oh-so-cozy, there's nothing like cuddling up fireside in a log cabin while snow falls gently outside the window. Experience Jasper's famous cabin culture and stay in a home-away-from-home that pairs heritage aesthetic with modern comforts. These charming year-round havens are unique and perfect for longer stays.


Edmonton International Airport