Illuminate your curiosity at Downtown Spark! Be on the lookout as downtown Edmonton defrosts to reveal immersive cultural exhibits, extended outdoor patios, al fresco performances, giant art installations and so much more. Experience the magic of the city's core with physically distant experiences that everyone can enjoy safely.

It all starts with a single spark. Where will it ignite next?

Please remember to stay home if you're sick, practice safe physical distancing and follow the public safety measures put in place to keep our community safe.
Explore the core as you support the many incredible local businesses that call downtown Edmonton home! Make a meal of your visit with Downtown Dining Week (April 13-25) - many local watering holes are offering an array of special multi-course menus that are available for takeout and outdoor dining. You can also sign-up for the Explore Edmonton Downtown Dining Pass, a mobile savings passport that includes many to-go deals at the city's best local taprooms, inventive eateries, cozy cafés and more. Discover the independent boutiques and retailers that line 104th Street, then experience physically-distant attractions like River Valley Adventure Co. or the Neon Sign Museum.

Looking for a fun way to get from point A to point B? Lime Scooters is offering a discount to riders who visit Downtown Spark. Just use code DTSPARK to receive one free "unlock" per person (offer available until April 26)!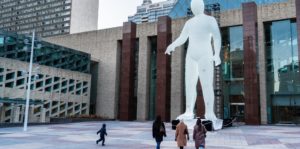 Look up! Waaaaay up! Six massive 'humanoids' are taking over downtown Edmonton. Incredible inflatable structures have popped-up in a variety of locations including City Hall plaza. These illuminated titans have been invading the globe, travelling from afar to land right here on earth. They're coming… are you ready?
March 12-April 11

Check out the full location list & times below to spot them all:

Down There at City Hall Plaza: 24 hours
Peeping Corner at Sir Winston Churchill Square at TIX on the Square: noon-10:00pm
Poke at Sir Winston Churchill Square: noon-10:00pm
Comfort at Abbey Glen Park: noon-10:00pm
What's That at Sir Winston Churchill Square: noon-10:00pm
Over at MacEwan University 105 Street Building Rooftop: noon-10:00pm
Please note, this exhibit is weather permitting. If strong winds occur, the giants may take a rest and pop back up later!
Some birds head south when they feel that very first chill in the air. Others stick it out to enjoy the beauty of winter in Edmonton! As part of the Quarters Arts Society's annual Spring Equinox Festival, GLOW, the Winter Birds Exhibit invites you to celebrate those special species of birds that make Edmonton their home all year-round. Discover 3 glowing inflatable chickadees (we can hear them chirping now!) perched atop the roof and in the courtyard of CO*LAB at 9641 102A Avenue.
March 21-April 30
Please note, this exhibit is weather permitting. If strong winds occur, the birds may go back to their nest and perch back up later!


Ignite your imagination in The Arts District! The Winspear Centre (beginning April 8), The Citadel Theatre (beginning April 10) and the Art Gallery of Alberta (beginning April 23) are hosting three distinct family-friendly digital experiences on the facades of their buildings. These displays will feature the incredible work of local artists, showcased on large outdoor LED screens or with laser projections and accompanying sound.
April 8-May 31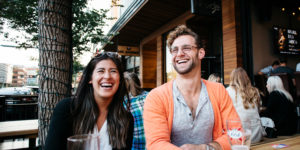 A new pop-up park is taking root downtown! Enjoy the fresh spring air at Root 107 - an inclusive public space filled with colourful mural art, greenery, and unique seating areas made from recycled materials. Grab some takeout at one of the neighbouring restaurants or food trucks and enjoy in the sunshine! Root 107 is popping up at 107 Street & 101 Avenue beginning at the end of April.
April 28-TBA
Celebrate the coming of spring with wâpos - featuring larger than life sculptures designed by Indigenous artist Jason Carter and an experience created by Jason Carter & Bridget Ryan. Wave 'hello!' to large rabbits in Amiskwaskahegan Park (Beaver Hills House Park) in the heart of downtown Edmonton. They are lit from within, so at night they are illuminated and during the day they are intriguing and beautiful. There will also be 40 smaller rabbits that 'run' along the path and are nestled in and amongst the park - can you spot them all?
March 25-April 3


wâpos is now over, but never fear! You can still explore the core at the other Downtown Spark activations.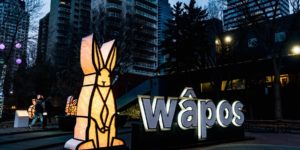 There's nothing better than a bit of fresh air! Get out of the house (you don't have to tell us twice!) and head to A Taste of Al Fresco, a wonderful chance to explore Edmonton's iconic 104th Street downtown. Indulge in $15-$25 tasty food specials on extended restaurant patios and featured drink specials including a Hot Bevvy Showdown. Peruse through art installations, including visual and performance window activations, ice sculptures and more!
March 27-28

A Taste of Al Fresco is now over, but never fear! You can still explore the core at the other Downtown Spark activations.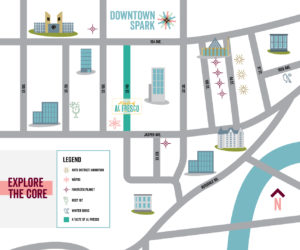 Health and Safety Measures
Downtown Spark is working closely with Alberta Health Services, Environmental Public Health to present safe opportunities for Edmontonians to enjoy downtown that comply with current provincial orders and guidelines. When heading downtown, please remember to:
Follow the public safety measures our partners and businesses have adopted to keep our community safe.
Maintain physical distance between yourself and others.
Stay at home if you're sick.